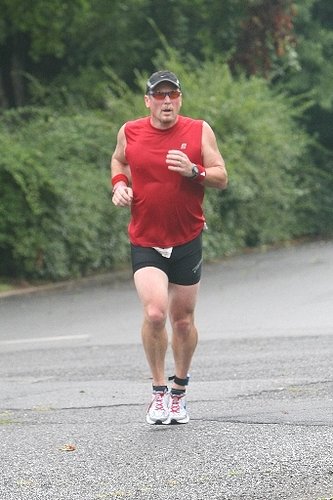 Veteran


291







Just South of Disorder

Subject:
Getting Anxious and Claustrophobic in Ocean Swim.
I am have a big problem with my ocean swim leg. I have been training hard in the pool but I am having problems with the ocean swim. I seem to get very anxious and claustrophobic and even very tired even though I have been pool training at 2 to 3 times the tri swim distance. I have a wet suit and it fits me fine but both times in the ocean swim once I get my heart rate up I feel like someone is pushing hard on my chest. At that point I just want to take the wet suit off. Can you explain why this is happening? Do you think I would do better in a "shorty" wet suit vs. a full body wet suit. I have been using the wet suit not so much to gain speed but to feel a little more confidant in the ocean due to its buoyancy and the cold water.

I know that training in the ocean is my best bet but it's just not practical I am 1-1/2 hours from the shore. I also have done pre race warmups in the ocean. My 2nd ocean swim went better than my first but I still got anxious and clostophobic about halfway through the swim leg. Any information you could give me would be very helpful.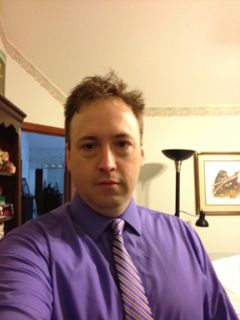 Master


1929









Midlothian, VA

Subject:
RE: Getting Anxious and Claustrophobic in Ocean Swim.
Claustrophobic, in the OCEAN?

Maybe you should lose the wetsuit. Can't have your cake and eat it too so to speak. I hear wetsuits are supposed to be snug. I wouldn't know, I've never tried one on. Don't see the need to shave seconds off of hours, and if I don't see a need for one otherwise. My first tri had COLD water, and people in their suits were uncomfortable too so it was pretty much moot.

-eric

Member


24



Boise

Subject:
RE: Getting Anxious and Claustrophobic in Ocean Swim.
I have been a dive master for years and have seen sudden anxiety in the ocean dozens of times. More than not it's the unfamilliar restriction of the wetsuit, secondly it's the fact you're no longer at the top of the food chain. Recommendations --- Dont just train in your wetsuit, swim in it. get to enjoy the added bouyancy and warmth. Try adding weights and snorkel a little, this will do two things for you, 1) you'll get used to the suit and soon forget it's there, 2) you'll become more comfortable in the ocean, in fact learn a few names of the animals you see, that'll help ease your mind.
One more thing, while swimming, pull at the neck line every once in a while to allow a flood of cool water to run througt the suit.
Regular


153





Conejo Valley

Subject:
RE: Getting Anxious and Claustrophobic in Ocean Swim.
It's not that unusual to have the claustrophobic thing in ocean swim w full wet suit. A couple of suggestions. 1.go breaststroke until you calm, 2. when you breathe to the side, look up at the sky and do that a few strokes taking in deep breadths. Dave Scott recommended that on a a tape I saw and I gave it a go and it helped. 3. consider a sleeveless "farmer john" suit if the water temp is warm enough. Less clautrophobic as your shoulders are more freed up.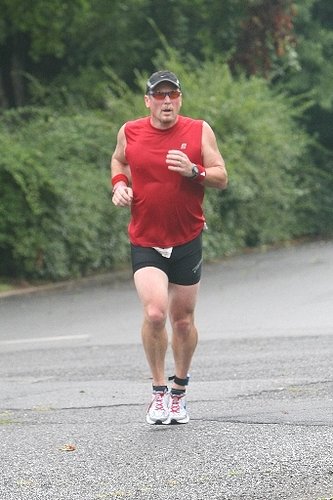 Veteran


291







Just South of Disorder

Subject:
RE: Getting Anxious and Claustrophobic in Ocean Swim.
faded_memories - 2010-08-20 3:04 PM Claustrophobic, in the OCEAN?


Yes believe it or not I do get that claustrophobic feeling in the ocean. What I think is the main reason is that here in New Jersey when you look down into the ocean all you see is green. There is no depth perception or anything in your preifialy vision. You don't see the bottom, you don't see what's next to you, you don't see squat. No black line to follow at the bottom of the ocean. I guess looking back at pool training that black line could be looked at as a comfort line. You know sooner or later you will come to the end of it. With ocean swimming I don't have any idea of my distance. Have I gone 100 meters or 50? I will try to pick up a sleeveless wet suit because the extra boyancy that a wet suit provides give me comfort. I think I am a decent swimmer and hopefully experiance in ocean swims will elimanate this problem. But being almost 2 hours from the ocean makes practice difficult.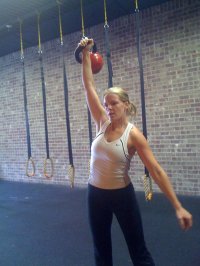 Elite


3223






Hendersonville

Subject:
RE: Getting Anxious and Claustrophobic in Ocean Swim.
It's totally normal to have all kinds of anxiety issues when swimming in open water. It's also very common. The water is usually cooler, which can cause a feeling of chest constriction. Also, as you already pointed out, it's a very different feeling to be out in open water versus the safety of pool lanes.
Are there any lakes nearby that you can swim in? Have you checked in the forum for the state you live in to see if anyone does open water swims that you could join?
During a race, you can always flip over and float for a few minutes if needed, or swim on your side with your face out of the water. If you switch to breaststroke for a bit, just make sure you aren't surrounded by other swimmers. You can also grab onto a kayak briefly without being disqualified.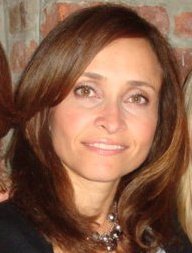 Veteran


252






Subject:
RE: Getting Anxious and Claustrophobic in Ocean Swim.
I had the same feelings with every practice OWS before my tri on 7/18. All I can say is that try & do whatever it takes to get into OW & get comfortable. I did approx. 5-6 practice OWS before my tri..although they were in lakes. My tri was in the Long Island Sound & it all went well. When you pick up your number check out the swim course & get familiar with your surroundings. It did wonders for me..BIG TIME!! All of my friends were worried about me because I had two major freak outs during my OWS. I had those same feelings you are having too. I thought it was my wetsuit too but it wasn't...it was just my anxiety building up. Good Luck & I am sure you will have a good race to report back on!

Patti