2011-01-12 12:06 PM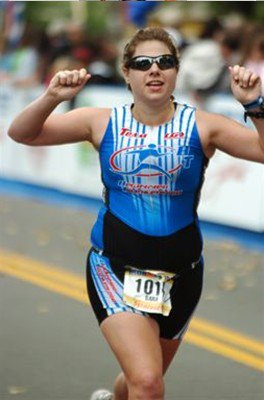 Master


1471









Dunedin

Subject:
Sink or SWIM! with WittyCityGirl - CLOSED
NAME: Wittycitygirl / Sara

STORY: I am a certified swim instructor/swim coach with a MS in Nutrition and BS in Psychology. I started triathlon about four years ago when I was looking for a fun way to use my swim skills and lose weight for my wedding. I worked towards a longer distance each year and this past summer I completed Ironman Lake Placid!! I love triathlon because I am challenged to maintain my swimming technique/endurance I gained through collegiate swimming and challenged to keep improving on the bike and run. I am currently recovering from a sports hernia repair so I will be "back to basics" to master the sprint/olympic distances this year. Aside from triathlon I hope to gain admission to a psychology PhD program in the states (currently accepted into a nutrition program in... NEW ZEALAND!).

FAMILY STATUS: Married to Jon for 3 years and have a chocolate lab furbaby, Halligan (1 1/2 years old).

CURRENT TRAINING: I am starting from square one. I am slowly building from not being able to walk back to being a lean, mean swim/bike/run machine! I typically train 5-6 days/week when I'm not "broken".

THIS YEAR'S RACES: Last year, I completed IMLP, Syracuse 70.3, and Broome County Triathlon (sprint) PLUS the Wineglass Marathon and several shorter road races.

2010 RACES: Broome County Triathlon is my only must-do, but as I recover I KNOW I'll be tempted to sign up for more races. I would love to sneak in an Olympic (or a HIM!) by the end of the summer.

WEIGHTLOSS: I gained a sizeable amount of weight since Lake Placid due to my injury. My goal is not necessarily weight-loss per se. I'd love to be able to fit into my clothes again!

WHAT WILL MAKE ME A GOOD MENTOR: I have mentored a swim-focused group in the past (2 years ago, took a year off for training for the Ironman), so I have an idea of what triathletes expect out of the experience. I will be a good mentor for anyone sprint-distance to Ironman that feels that the swim portion of triathlon is his/her weakness, but since I am myself not capable of racing the longer distances I would love to mentor triathletes training for a spring or olympic distance. I have the educational background to guide people with their nutrition questions and have the swim background to guide people with their training. I am also a great motivator... GET TO THE POOL!!!
Edited by WittyCityGirl 2011-04-17 6:35 PM


2011-04-09 11:25 AM

2011-04-09 1:29 PM

in reply to:
#3437487

2011-04-09 1:32 PM

in reply to:
#3437520

2011-04-09 1:33 PM

in reply to:
#3437589

2011-04-09 1:37 PM

in reply to:
#3437655

2011-04-09 8:23 PM

in reply to:
#3437669

2011-04-09 8:26 PM

in reply to:
#3437678

2011-04-09 8:27 PM

in reply to:
#3437701

2011-04-09 8:28 PM

in reply to:
#3437745

2011-04-09 8:30 PM

in reply to:
#3437748

2011-04-09 8:32 PM

in reply to:
#3437836

2011-04-09 8:38 PM

in reply to:
#3438018