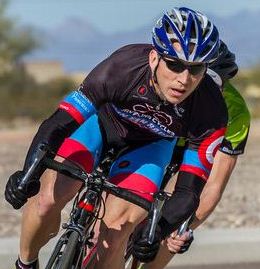 Master


1484










Sedona, AZ

Subject:
RE: 2011 Cycling race report thread.
GM Classic Omnium, Cat 5, Yuma, AZ, 11/5/2011 - 11/6/2011
Day 1 - 7.7mile TT around the GM test track. This was a cool place for a TT, with smooth pavement, little elevation change and sweeping turns. No need to get out of aero position and a real ramp at the start. 1st place/12 racers (17:31)
Day 2 - 66 mile (2x33 mile loops) road race around Wellton, AZ. Nice venue around the agricultural fields in the area with little traffic. 17 turns, the first several with sand/gravel due to rains a couple of nights earlier. My wife and I pre-rode the course after the TT to get familiar with it. As a cat 5 race, there was little organization or teamwork. The first loop was pretty easy. The guy who took 2nd in the TT (I'll call him #2) said he'd work with me to go for the win, which was cool. I didn't plan on doing much work at the front but I ended up there occasionally just to keep my heart rate up. Sometimes I just found myself up there, too. With the easy pace it wasn't a big deal. I also wanted to lead through the sketchy corners so I could control the pace and avoid crashes. About mid-way through the first lap, #2 and I dropped back to let others do more work and we chatted about strategy. I figured anyone who thought they were going to go on an early break would have tried by now. As we filtered our way back up, we decided to push the pace a little more to drop some people. We ended up dropping two or three people. I continued trying to lead through the turns and push a little out of them to accordion the group and make them put some extra effort in. There was one little roller that I also pushed the pace on, hoping to put the hurt on the weaker riders. The second loop we picked up the pace but when the weaker riders got to the front the pace would slow again. It was getting obvious who was hurting and who wasn't. I was trying to keep track of the #3 rider since he could get enough points to pass me on the OA podium. I wasn't really worried about #2 since he was helping me. We dropped another group of riders on the 2nd loop and after the little hill we were down to around 9. #2 and I got into a 3-man breakaway for a mile or so but got pulled back in. My plan was to have #2 and I break at about 3 miles from the finish, but when the time came neither of us felt we had the legs to stay away that long. I shot away for a little bit to see what would happen, but it was just a decoy. One guy got away with about 2 miles to go, and another tried to bridge but the group caught them both. At the slight downhill finish, nobody was making a move so I started a sprint at around 3-400 meters. As soon as I kicked it in, most of the group saw me and kicked it in too. I let up a little too early and #3 and another guy crossed the line ahead of me, with #2 just behind me. 3rd place/19 riders. 1st OA Omnium.
This was only my 2nd RR and 2nd TT so I wasn't sure what to expect. I felt pretty good on the short TT and averaged 270W. Earlier this year that was my VO2 max, so holding it for that long is a good improvement for me.
I haven't been bike racing very long (except when I was a junior) so I'm trying different things to see what works for me. I don't have a lot of confidence in my sprint. If I'd kept pushing at the end I think I could have taken it. My jump was OK, but a better launch from behind someone would have given me more room off the front which would also probably have given me the win. I'll experiment more when the season starts up. After all as a Cat 5 it's all about the start, not the finish

One humorous thing was when #3 came up to me after the RR. Since the omnium was points-based, I couldn't just cover for time. I had to do well in the RR. #3 came up and shook my hand, said 'good race' and then told me he won the Omnium OA with the RR win (in a bragging sort of way). He also mentioned how he just sat on through the 2nd lap so he could beat me at the finish. I congratulated him and when he walked away my wife and #2's wife both mentioned how rude it was that he did that. I didn't really think about it, but figured I just got the points wrong and maybe the RR was worth more than the TT? I also thought maybe I got 4th instead of 3rd in the RR, which would have given him the win. When the results were posted, my wife and #2's wife were a little overly-excited with the win and I'm pretty sure he heard them. It made me chuckle inside