Veteran


285







Keller, TX

Subject:
Heart Rate on the Bike
Trying to do some heartrate training on the bike.
I am 41 and been tri-ing for about 3 years.
Got some information that tells me my aerobic zone on the bike should be 143-149.
I went and rode a course that is mostly flat but we had some wind. Average cadence, 84. Riding in the big ring, mostly in gear 5-8 of an 8 gear cassette. I absolutely could not get my heart rate up! I hit 148 for a brief minute or so but averaged 132, most of the time between 137-140.
Looking for some opinions - do my numbers seem appropriate? Other than adding hills, which will get my HR up for a few minutes, any recommendations? Do I just need to get into a bigger gear and work harder to keep my cadence up?
Thanks.
Terry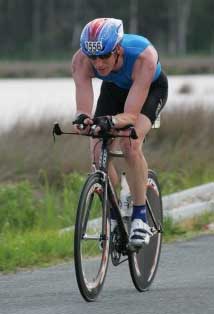 Cycling Guru


15134







Fulton, MD

Subject:
RE: Heart Rate on the Bike
tboepple - 2006-06-01 9:29 AM
Got some information that tells me my aerobic zone on the bike should be 143-149
Where did you get that information? Did you have a V02 max or Lactic Threshold test done for the bike?
Because that is the only way you can truly get your "zones" for each activity ........ otherwise it is just guess work.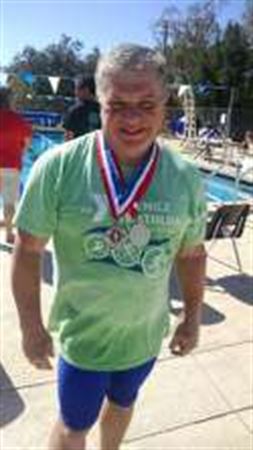 Champion


7036





Sarasota, FL

Subject:
RE: Heart Rate on the Bike
First, I'd suggest you check out this previous thread:
http://www.beginnertriathlete.com/discussion/forums/thread-view.asp?tid=25733&posts=208&start=1
Just for comparison, I'm 53, and have a resting HR of 42-44 bpm. My zone 2 range (aerobic endurance) on the bike is 127-140 bpm. My coach came up with those numbers after determining I had a lactic threshold heart rate (LTHR) of 159 bpm from testing using a Computrainer. Based on that number the 127-140 zone 2 range came straight from the charts in Joe Friel's The Triathletes Training Bible.
I try to ride at 90 cadence; it will usually take me 10-15 minutes of warming up to get into my target zone. If I ride steadily I can usually keep my HR in the target zone, but it drops pretty quickly if I slow down. For my high intensity workouts my coach has me ride at LTHR-10 or 149 bpm.
HTH, Mark
Veteran


285







Keller, TX

Subject:
RE: Heart Rate on the Bike
I had a test done to come up with numbers - had the gas mask hooked up to measure VO2 max . . . but there was me and a bunch of other folks doing it the same day, so I'm not sure I got all of the right numbers . . .
I have the same problem if I try to do HR work on a stationary recumbent I have. Can't seem to keep the HR above 135 . . .
Member


25



North Carolina

Subject:
RE: Heart Rate on the Bike
Bigger gear should get your HR up with increased cadence. Try some interval work on the bike with recovery time inbetween the intervals, this alway blows me up on the bike.

Also riding on the flats or hills out of the saddle is a great drill to do a couple times a week. Start with 30 seconds out of the saddle and 1 minute of recovery and repeat X 3. Then bump it up to 1 minute out of the saddle and 3 mins recovery, again 3 sets. Keep increasing the time out of the saddle - - you'll see that HR sky rocket.

Regular


106



Montana

Subject:
RE: Heart Rate on the Bike
I am 43, and I have had similar trouble. Recently though, I have been able to increase my HR. For me the key has been drastically changing my diet (much more healthy), and getting appropriate recovery(I am following a specific program). I think that I can tell when I pushed too hard - my HR will be lower on the next work-out. I am sure that recovery as well as better diet, hydration, and vitamins have had a positive effect on my performance.
The other thing that I have learned from researching the same thing, as I am sure you know, we are all different and what works for one person does not work for the next. We all have different HR - resting, working and max. As near as I can tell, a low HR or a high HR may not affect performance, depending on the individual.
An aside - Back to the age thing, in my area, all of the fastest people have been doing this tri thing for 20 years and are in my age group. Kind of intimidating.