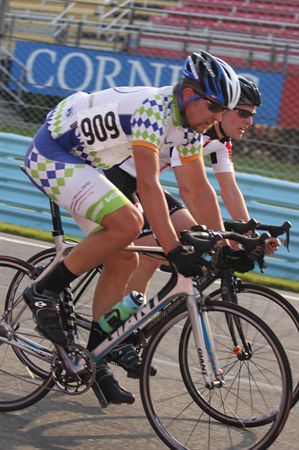 Veteran


287







Subject:
RE: Swim training for continuous mile swim (no luck)
x1000 on the slowing down.
My second time back to the pool after an 11 year break from swimming, I swam 2000 continuous yards with no problems whatsoever. There is no way I could have held 1:30/100yd though, it was more like 2:20/100. Your run and bike cardio fitness DOES carry over, it just doesn't mean you'll be fast. The key for me is getting relaxed in the water which normally takes me a few warm up sets to do.
Member


73




South Shore, MA

Subject:
RE: Swim training for continuous mile swim (no luck)
I had the same problem. Make sure you slow down, and consider breathing on the same side, at least to get through a longer set. You could alternate breathing on one side and then the other, but you need more air to get through this.
If your balance in the water (front to back) is good, you shouldn't have to kick much. Many triathletes barely kick at all to conserve energy over longer distances. If your lower body is dragging, that is a problem. If you're desperately kicking to keep your legs from falling, that's also a problem, and it will drain all your energy.
I had terrible balance and could only swim 100-200 yards in a row last spring a month before my first HIM after months of training. I put on a wetsuit and realized that it propped up my lower body and I actually could swim long sets with either the wetsuit or a pull buoy. While they were crutches for sure, now that I'm back to the pool, I realize that a summer of open water swimming with the wetsuit helped my balance in the water. Now I can swim the full HIM distance in the pool with no aids at all (still not quickly). My feet don't drag as they once did. Balance is important.

19



Subject:
RE: Swim training for continuous mile swim (no luck)
I'm no expert, but I found that switching from straight alternate breathing (every 3 strokes) to more frequent helped.
So now, I'll take 2 or 3 consecutive breaths on the right, then take three strokes to alternate to the left, take 2 or 3 breaths on the left, and repeat. That, plus slowing down (especially my kick) helped me extend the distance that I could swim without having to stop for breath.
Good look
New user


18



Subject:
RE: Swim training for continuous mile swim (no luck)
everybody had good advice to offer,so I want to take a second to thank everyone for their time and input. I have been told in the past to try and breathe every other stoke instead of every third, but I figured it would butcher my form too bad since I started out with a very poor stoke doing every other .Now that I've got fairly good form going bilaterally, I know where I'm weak and what to watch for when it starts to fall apart. Knowing this, I tried breathing in 1 side ,every other stroke, and presto! I'm pumping out 100's with not that big of a problem.Still taking a 30 second breather in between, but Holy cow, just an improvement like that just breathed new life into my swim training motivation !
I watched some Tri's of the elites on Triathlonlive.tv and saw that even the elites breathe every other stroke (mainly because they are race pace of course) , but even still , I kick myself for being so stupid and not trying this sooner ! My form does fall off a little, but like I said earlier, I now know what part of the stroke is suffering, and I know what to work on.
Thanks again everyone for your help ! For awhile I felt I was spinning my wheels going nowhere !
ICEMAN
(I know it's pretty cocky to go with that name after only doing 1 TRI, but I own an ice company, so thats what everyone called me before I started in Triathlon)
New user


16



Minneapolis

Subject:
RE: Swim training for continuous mile swim (no luck)
I've been back to swimming consistently now for about 18 months, and for the first six months I faced the same situation. Rather than work on speed I decided to work on being more efficient in the water. I read the swim smooth Web site and blogs regularly. They really have good advice. I agree with what's already been said, and would add that you should consider reducing your kick emphasis. Nothing wears me out faster than kicking hard in the water. Keep working at it!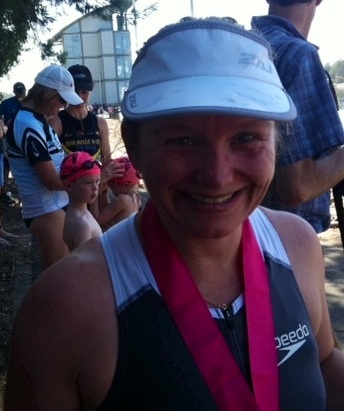 Regular


173





NSW

Subject:
RE: Swim training for continuous mile swim (no luck)
i have been a swimmer all my life. My experience is that breathing is adjusted according to effort. I generally have no idea how often I have breathed, but the breathing is continuous, ie I breath out underwater and when I tumbleturn.My times are about 1:40/100M, and I breath on the RHS. But when in OWS events I am capable enough to adjust according to conditions ie Waves, people, sun etc.I would ditch your tempo trainer and slow down to what feels natural for you. This will stop you overthinking. worry less about time and more about distance. The swimming fitness is quite different to running, as I can testify when I used to regularly swim a 15min km but couldn't run 5mins.Good luck!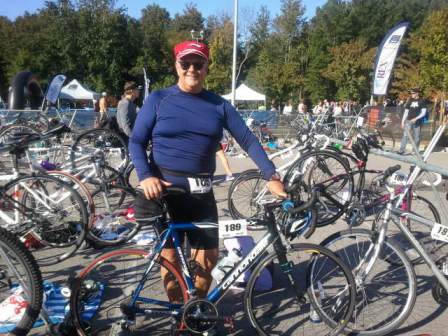 Extreme Veteran


701





Raleigh, North Carolina

Subject:
RE: Swim training for continuous mile swim (no luck)
Two thoughts come to mind ... calm down and your kick. Early on with swimming I would panic and had to force myself to just calm down. So here you are at the wall, at the end of 50m ... force yourself to stay calm, turn and keep going regardless of the form. Also once you've made the turn, force yourself to slow just a touch and focus on your form ... albeit at a slightly slower pace.
Also - your kick. Early on, I found I was kicking waaay to hard and using up too much energy. Now, I typically use a 2 to 4 blip kick which uses minimal energy but keeps the feet up. To me, constantly kicking is wasting energy.