2013-12-18 4:53 PM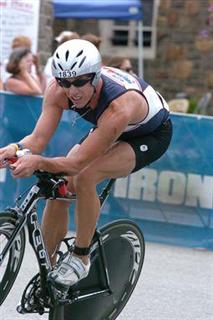 Master


2621





Mechanicsburg, PA

Subject:
BrotherTri's - Triathlon Training Support Group - CLOSED
GROUP FOCUS:
Triathlon training support for the beginner Triathlete. Vets are welcomed as well. All are encouraged to log training, share your experiences and ask questions.
NAME:
BrotherTri - James Rokowski
STORY:
Hi! My name is James. I am an Aquatics Director at a private fitness club and Personal Trainer contracted to the US Navy. I did my first Triathlon in 1983 in Korea. A few years later I moved to Hawaii. During the off season of bike racing, I did my second Triathlon and got hooked hard. I did a TON of cycling races, running races, Biathlons, Triathlons and even qualified for Kona at a half iron event in a military slot while I was in Hawaii.
Fast forward a few years and after a military career, then 5 years of foreign travel (Middle East), I returned to triathlon training and racing. I have done 3 Ironmans, 9 Halfs and a bunch of other Tri's since my return in 2008. I keep my training simple, trying to safely focus on my weaknesses. I hope I can share my experiences with others and will welcome any questions.
FAMILY STATUS:
I am married to my wife Stacy who supports me very well. We raised 3 fine young adults.
CURRENT TRAINING:
Nothing specifically planned. I am building my run base back after taking time off after Ironman Lake Placid to let my metatarsals cool down. I am starting a winter cycling trainer schedule (CompuTrainer) and keeping up with my swimming.
THIS YEAR'S RACES (2013):
I completed, Black Bear HIM, Mont Tremblant 70.3 and Ironman Lake Placid. I had planned for a few more Triathlons but my metatarsals were in need of some rest.
2014 RACES:
I am registered for Black Bear Olympic - Jun 1st, Syracuse 70.3 - Jun 22nd and Princeton 70.3 - Sep 21st. I am also planning a few Sprint Triathlons and maybe something else.
WEIGHTLOSS:
No specific goals but to lean up a bit before racing.
WHAT WILL MAKE ME A GOOD MENTOR:
I struggled with this question, so here it goes. I would like to give back some of my years of experience to those that many want to know or need some answers. My first half of my racing life I learned thru trial and error. When I came back to racing it was very natural although my wife thought I would kill myself. I assured her that would not happen. I will encourage you through your logs and this thread. I will try to answer all your questions or point you in the direction to find them. I am by all means no expert of this sport. There are many ways to safely get to the finish line. On a final note I can also give some tough love and would specific focus on the sport of Triathlons.
Edited by BrotherTri 2014-01-01 6:38 AM

2013-12-18 5:17 PM

2013-12-19 8:14 AM

2013-12-19 1:16 PM


2013-12-27 5:09 AM

Fraz

2013-12-27 7:16 AM

2013-12-27 9:39 AM

in reply to:
Fraz

Fraz

2013-12-27 9:49 AM

2013-12-27 10:18 AM

in reply to:
Fred D

2013-12-27 10:38 AM

in reply to:
Fraz

2013-12-27 12:03 PM

2013-12-27 1:20 PM

in reply to:
0

2013-12-27 1:38 PM

2013-12-27 7:15 PM

in reply to:
tedjohn

TK

2013-12-27 9:05 PM

2013-12-27 10:03 PM

2013-12-27 10:09 PM

in reply to:
tedjohn

2013-12-27 10:14 PM

in reply to:
jwthomas

2013-12-28 8:21 AM

in reply to:
jwthomas

2013-12-28 8:27 AM

in reply to:
TK

2013-12-28 1:32 PM

2013-12-28 3:10 PM

2013-12-28 8:27 PM