2015-12-22 8:32 AM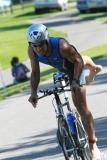 Pro


4675









Wisconsin near the Twin Cities metro

Subject:
Jim Kelley's (aka Birkierunner) General and Long Course Group (OPEN)
GROUP FOCUS: I invite folks wanting just GENERAL guidance but would also welcome more experienced athletes that want to take the plunge into LONG COURSE racing
NAME: Jim Kelley - Birkierunner
STORY: I'm a 55 year old wildlife biologist that has been involved with endurance sports for nearly 40 years. In high school I was co-captain of the x-c team, ski team, and track team. After racing in college a little bit I spent many years just doing maintenance running mileage with no racing goals in mind, with an occasional 10k – I basically wasted my 20s and 30s as far as competing. A friend of mine convinced me to race the 51 km American Birkebeiner x-c ski race in 1997 and that is when my endurance racing kicked back into high gear. I ran my first marathon in 1998, and qualified for and ran Boston in 1999. I've done a ton of road racing over the years, 10 marathons, with 8 of them being sub-3 hours (2:51 PR), one 50 mile and one 50k ultra. I still race x-c skiing in the winter. I got a little bored with marathons, and did my first triathlon (Olympic) in 2005 (actually podium-ed in my AG on the first try!). I followed that up with a half-ironman a month later and did Ironman Wisconsin the next year. I'm focusing on Ironman racing now and have managed to complete 8 of them so far with a recent 10:20 PR (6th AG). I've been fortunate to be able to compete at a fairly high level even at the ripe old age of 55.
FAMILY STATUS: Married and have a 7-year old step-son, so I'm familiar with the challenges of training while considering family time.
CURRENT TRAINING: My training that past few years has been focused primarily on the Ironman distance but I race frequently at the Olympic and half-ironman distance.
THIS YEAR'S RACES: This past season I had a shoulder injury that forced me to cancel out of Ironman Couer d'Alene, so instead I focused on shoulder rehab and continued running and biking.
2016 RACES: Local races plus Ironman UK in July
WEIGHTLOSS: Weight loss has not been an issue for me.
WHAT WILL MAKE ME A GOOD MENTOR: After being involved with endurance sports for so many years I think I've experienced it all…training, racing, injuries, success, disappointments (sometimes huge), time management, coping with lots of business travel, etc. Hopefully my experiences can benefit someone that is just starting out, or someone who has some experience but wants to get to the next level. I am a certified USAT Level I Coach and recently completed the IRONMAN Certified Coach certification. I also own my own coaching company, PR-Endurance. I have been a BT mentor many times in the past and have found that the group's success depends entirely on how much the members participate.

2016-01-01 11:19 PM

in reply to:
#5157537

2016-01-02 12:14 PM

2016-01-03 6:56 PM

in reply to:
#5158686

2016-01-04 7:01 AM

in reply to:
jdf1019

2016-01-04 8:58 AM

in reply to:
#5158923

2016-01-04 9:00 AM

in reply to:
#5159021

2016-01-04 12:11 PM

2016-01-04 9:02 PM

2016-01-04 9:07 PM

in reply to:
StevenC

2016-01-04 10:17 PM

in reply to:
#5159024

2016-01-05 7:46 AM

2016-01-05 9:33 AM

in reply to:
0

2016-01-05 4:26 PM

2016-01-06 8:02 AM

in reply to:
0

2016-01-06 8:04 AM

2016-01-06 6:36 PM

2016-01-06 9:22 PM

2016-01-06 9:32 PM

2016-01-06 9:53 PM

2016-01-07 5:39 PM

in reply to:
StevenC

2016-01-08 3:30 PM

2016-01-08 3:54 PM