1



Subject:
Non swimmer!
Hello. I often compete in running and cycling events separately. I have wanted to do a triathlon for a while now but I'm not confident enough in my swimming ability. I can swim, and I really enjoy it. It's just that I'm not very good. In order for me to take up my first tri, would people recommend that I get a swimming coach, or just get a lot of practice in on my own? Thanks in advance.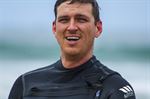 Expert


1277








St. Paul, MN

Subject:
RE: Non swimmer!
I suppose it depends on what you want to get out of your first race. My thought is that first race is to try things out. Knowing how to swim is good enough to finish a sprint tri. If you're nervous about the open water swim, I'd suggest finding a place to get out and get a sense of how swimming in open water is different from the pool. Additionally, if your nerves are more about swimming in a large group (something that takes some getting used to, to be sure), then you can always just swim to the side or toward the back of your heat. I think you'll find that there are plenty of people doing their first triathlons (or even veterans) who aren't particularly strong with their swim, so you won't be the only one not looking like an Olympian.
Dive in, as it were. But if you have some nerves, see if there are any triathletes in your area who you could meet up with to give you some pointers. Good luck.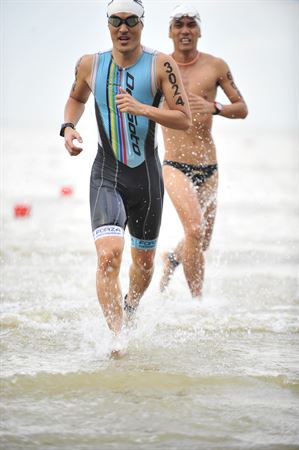 110



Subject:
RE: Non swimmer!
I agree with Paddle, it depends on your ambitions.
I have managed to self teach myself from barely being able to swim (my max was about 70m) to now doing IM and averaging about 2min/100m in long distance swims -. Even did a 6.5km swim which I never thought in my life I could do.
There are plenty of good technique videos on youtube. It takes time and patience, and you need to build new muscles which will improve your current swim quite fast if you already have basic technique.

I would try to swim 2-3 times a week for a month and see how you are doing. Also get someone to film you! You will probably cry seeing your own technique, but it is priceless in trying to see how to improve.

Extreme Veteran


693







Olathe

Subject:
RE: Non swimmer!
I started triathlons in 2004 and could not really swim to save my life. First sprint triathlon I almost tried to swim to shore to end the suffering. Fast forward 14 years later and I can hold my own with a 1:10 at IM FL ocean swim.

I was mostly going self taught for years and then joined a masters group after 8 years of struggling. I made huge progress in technique and this past year worked with a coach and made some big leaps in a few months where I thought I had plateaued.

Long story short, masters trumps self taught. Coached trumps masters.

Member


619




Franklin, TN

Subject:
RE: Non swimmer!
Get a coach for a few lessons. You'll save yourself a lot of frustration if you learn proper technique from the start. Even if you don't compete, you'll get valuable technique to enjoy swimming on your own. Youtube technique videos are great and I watch them too but a coach will be able to see what you're doing and give you immediate feedback....you can't get that from technique videos.