2019-01-02 10:38 PM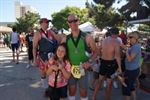 Extreme Veteran


1574






Subject:
Todd's Tri Turtles 7 (Beginner - Sprints, 5K, 10K) - OPEN
GROUP FOCUS: Sprints, 5K, 10K, this group will be geared more towards those with limited to no experience to get you through your Sprint, 5K, 10K, group bike ride, or whatever challenge you issue to yourself. In case you are wondering "Turtles" has to do with moving at whatever pace is necessary to accomplish the goals that are set. Speed is not an issue in this group, if you have it great, if you don't have it great, it makes no difference.

NAME: Hunting Triathlete / Todd

STORY: I'm a 40-44 age grouper (43) who tends to finish middle of the pack. I took up triathlon in January of 2010 as a way to help me quit smoking. I smoked a pack a day from just after my high school graduation until Jan. 3, 2010 (over 16 years). I used swimming, cycling, and running to help me through the cravings, and to improve my health. I completed my first Sprint a little more than two months later, then a fifty mile bike ride a month after that, a few more sprints, and then completed the Houston Marathon just a little after my one year smoke free mark. I am proud to say that I have been smoke free for seven years now, and will never even take a puff off another cigarette as long as I live. I have chosen to make Triathlon a life style and compete for the enjoyment. I'm not going to say that I never look where I finish, but I compete against myself and care more about the journey along the way. I have completed 3 Half Ironman races, 1 Olympic, numerous sprints as well as running and cycling events. I am not a trainer nor a doctor, but do find great joy and satisfaction through the hard work and accomplishment of others.

FAMILY STATUS: Married for over 18 years, with one beautiful (Spoiled Rotten) daughter.

CURRENT TRAINING: Just getting back at it, but when in full swing try my hardest to get in three swims, three bikes, and three runs per week. (short, medium, long.

2019 RACES: Houston Half Marathon, Ironman Florida

WEIGHTLOSS: I am lucky in this category and have never had an issue with my weight. I do want to lower my body fat % and become leaner, but that will come with training.

WHAT WILL MAKE ME A GOOD MENTOR: As stated above, I enjoy the accomplishments of others, whether they are small or large, because the accomplishment is relative to the individual and should be celebrated. I enjoy interacting with others to keep them motivated and positive about the goals they have set and the positive path they are on. I will make sure to answer any and all questions you have and if I do not know the answer I will do the research and get you the answer. I have been able to make friends through BT with very knowledgeable people who can help me if I need it. I will be there to send out inspires, challenge the group, and keep everyone logging and active. While I am not the most experienced, I am very passionate about this sport and people who are trying to make a change in their life.

Group Rules / Request: I am searching for those subjects that will participate in this group through logging their workouts, questions / comments in the thread, and by inspiring others in the group. No goal is to small for this group and will be celebrated as an accomplishment. We will all work to motivate each other and maintain a positive group. No arguments / discussion about Politics, Religion, Gun Control, and the like topics that tend to inflame others. You are free to take that to Cup of Joe. We can speak of things none Tri related but they should not be negative in any way. I just want a good group that communicates, works out, and enjoys the journey towards their goals.

2019-01-16 9:59 AM

in reply to:
#5253296

2019-01-17 4:22 PM

in reply to:
#5254064

2019-01-18 11:13 AM

2019-01-18 6:53 PM

in reply to:
#5254140

2019-01-21 1:39 AM

2019-01-21 9:33 AM

2019-01-21 6:06 PM

in reply to:
RockHead

2019-01-21 7:39 PM

in reply to:
#5254202

2019-01-22 5:17 PM

2019-01-22 9:34 PM

in reply to:
#5254287

2019-01-23 8:47 PM

2019-01-24 1:05 AM

2019-01-24 1:23 AM

in reply to:
0

2019-01-24 8:18 AM

2019-01-24 4:42 PM

in reply to:
0

2019-01-25 9:54 AM

in reply to:
#5253296

2019-01-26 5:13 AM

2019-01-27 3:43 PM

in reply to:
#5254558

2019-01-29 3:48 AM

2019-01-29 12:36 PM

2019-01-29 6:49 PM

2019-01-29 6:50 PM

2019-01-30 9:32 AM