2019-08-26 6:17 PM

17



Subject:
First triathlon!
Want to know how a cyclist would do in a tri? Read on. I don't run or swim and I don't really know how to swim or float. But I'm a relatively strong cat 3 cyclist, my cycling season is done, and this race is really close to my house, so let's give it a shot.

Swim: total panic 100M in, almost quit, ended up swimming the 900m mostly on my back, with some breastroke and sidestroke thrown in. 20 minutes. Lost 7 minutes to the leaders. Drank lots of water and swallowed lots of air.

Bike: transition with flying mount was good, and I had the fastest bike split in the race. 26 minutes. Overall winner's bike split was the second fastest but I still beat him by 30 seconds. Made up between 3-6 minutes+ on everyone else in the top 20. Burped out some of the air from the swim.

Run: Couldn't find where to rack my bike, blew 25 seconds looking for my number. Put on shoes sockless and holy cow, running is hard, especially after biking hard for 25 minutes. After 1 mile my stomach calmed down (burped some more air I probably swallowed during the swim) and ran a 6:00 second mile before I could tell my feet were getting destroyed. At the 15 minute mark I could tell the skin on the balls of my feet had definitely been ripped off... Slowed way down, painful to finish. 20:04 run, which was good enough for top 20, but lost 2 minutes to the winner.

Won my age group and 15/300 overall is really good! How do I avoid blistering during the run? Do I have to wear socks? Get some triathlon shoes? Dry my feet thoroughly? My feet were wet the entire bike as well. I suppose running before the race would probably also help?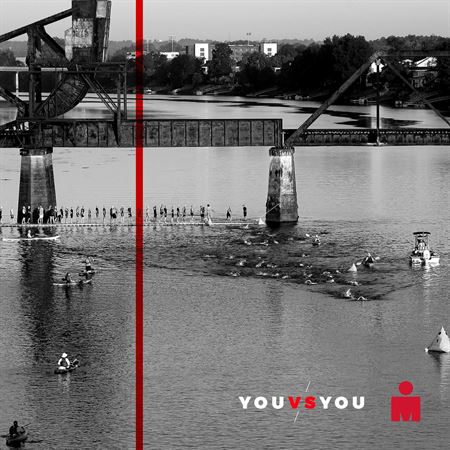 622




Subject:
RE: First triathlon!
Wow!

Learn to swim and you're going to be a force in triathlon. Your swim sounds like my first triathlon swim as well. Figured I could muscle my way through it. I was on my back within 2 minutes with a couple of kayakers worries about my safety.

You can avoid blisters by gradually building up your tolerance to running sockless. I can run up to 10k without socks, after that blisters are inevitable. Body glide is also helpful, you can put it on in T1 or T2. Or, just wear socks. If you roll them they are easier to slide on. This adds maybe 5 seconds to your transition time. Some folks add some baby powder inside the socks so they are easier to get on if you're wet or sweaty.

Congrats on a great first triathlon!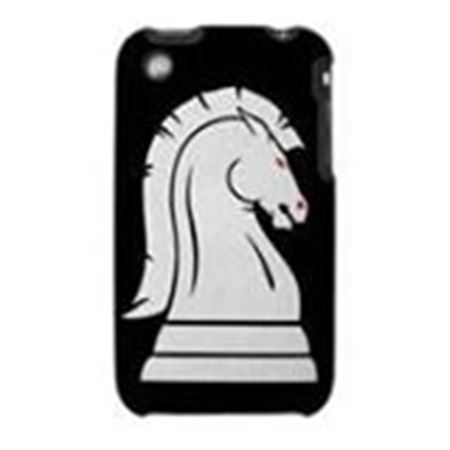 Master


1439








Subject:
RE: First triathlon!
Congratulations

1192







McAlester, Oklahoma

Subject:
RE: First triathlon!
Originally posted by stevendex Want to know how a cyclist would do in a tri? Read on....
Want to know how a runner would do in a tri?
In 2008 after I completed my first Half Marathon and First Marathon the same friend that had a bad influence on me convincing me to do a half marathon with her convinced me to do a Sprint Triathlon with her. A triathlon was not something I wanted to do but I didn't want to be left out of all my friends conversations that were sure to center on Triathlon training and the Triathlon race so I signed up to do the race. I had a day job and wasn't able to make the 45-minute drive every Thursday afternoon to the lake to do OWS' with my friends. I didn't really have any pool that I could get to and I didn't have a skinny tired bike so I decided I would do my 1/2 marathon training plan to be in the best running shape I could be and forget about doing any swim of bike training.
Swim: I didn't know what my swim pace was but I think I had it about right because I passed about 5-6 people on the swim and only had about 3-4 people pass me. I started out in the freestyle swim but that only lasted for about 25 yards then I switch to my favorite stroke with is the side stroke. I could swim really hard and didn't have to worry about my heavy breathing because my fave was always out of the water and I could breathe freely. I was far enough back in the swim starter (serpentine pool swim with swimmers starting ever 5-10 seconds) that one of my friends was coming through the finish line about the time I got out of the water. Another friend had started just behind me on the swim. I think he was one of the swimmers that passed me. I was 3-4 min/100yd on the swim. My rank was 146 out of 235 overall and 90out of 133 in my age group.
Bike: It was a really slow transition. I was putting a dry Under Armor compression shirt on over a wet body and everything stuck. I did the same thing with socks. I was putting on running shoes and tieing the laces took for every with cold wet fingers. It took about two minutes to get ready to bike. coming out of T1 was a disaster. The skinny tired bike that I had borrowed for the race had clipless pedals but I didn't have bike shoes so I had to switch out the pedals for platform pedals. I had a hard time getting on of the pedals to thread back in and I didn't want to double thread the pedal on someone's high-end racing treat bike so I went until it got tight and stopped. The 2nd crank out of the transition that pedal that had got stuck popped on flew off the bike. I swerved nearly crashing and nearly taking out a runner that was finishing the race. I had to run back into transition to get the bike tools with my gear in transition and come back to put the pedal back on. I got the pedal in right away with no problems but after a terribly slow swim and losing 10 minutes to a bike technical I had zero chance of beating any of my friends. When I got back on the bike I rode as hard as I could to try to make up for lost time. I was passing people like they were standing still. I caught up with my friend that passed me on the swim and passed about 35 other people. I hadn't been a bike for years and had never training for any type of cycling byt averaged a 21.5 MPH on the bike. I was 168 out 235 on the bike and 107 out 133 in my AG due to the 10 minutes lost with the pedal falling off. If I would have taken 10 minutes off my time I would have been about a top 10 overall bike leg.
Run: I had never run off a bike before and had way overdone things on the bike so when my feet hit the pavement it was all I could do to not fall flat on my face. The legs were pure jello. I didn't know how I could walk let alone run. Two of my friends saw me coming out of T2 (they way already done with the race). They yelled the exact encouragement that I needed so instead of just giving up and just jogging the run I did my best to run. My legs were so trashed that I had to mentally force my feet to pick up, for my knees to bends, etc. My legs were dead legged so I was mentally trying to get my legs to move in the best form possible. I was passing grey-haired women and others who running looked quite slow. But I did not feel like I was running well and was sure my run time would be back of the pack. When I looked up the results I saw my run time was more than two minutes over my open 5k times. I was surprised to see that I had the 2nd fastest run time of everyone in the entire even. I was even faster on the run than my friend at the race who held his school record for the 1600m run.
I was number 2 out of 235 on the run and number 1 out of 133 in my age group.
I finished about 59/235 overall and 45 out of 133 in my age group. So despite being back of the pack on the swim and even further back on the bike due to a peddal falling off the bike, I finished around the top 25% over-all. Even though I hadn't been a bike for 2+ years before the race I was able to cycle well. There seems to be a lot of crossover from running to cycling. Swimming don't appear to have much crossover to running. If you don't know how to swim it doesn't matter how strong your lungs and endurance are you are going to be slow.
I wore Speedo Jammer tunks, goggle, and a swim cap that I had bought the night before the race on the swim. On the bike, I wore a compression shirt I had also bought the night before the race. I wore my running shoes with socks. I had a high-end cardon street bike for the race with platform peddal and toe clips.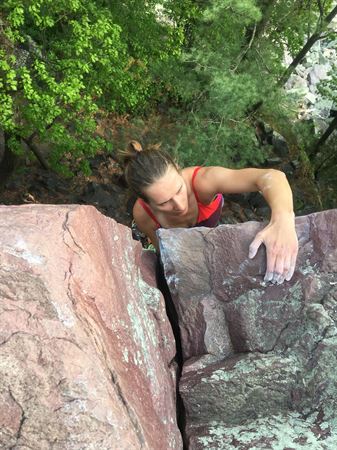 1553






Denver, Colorado

Subject:
RE: First triathlon!
Congrats on completing the race!
Couple of comments....
You mentioned your place and rankings, but you did not say the overall time, nor the time for each leg. You also did not post distances. Depending on the race (local vs huge international event), your result may place you as a first one, or far far at the end... Given it was only 300 participants, your time with struggles on the swim and everything else could've been enough for first place.

So... instead of focusing on the rankings (I know it's an awesome feeling to have a good place), work on your form and everything else, especially on the swim, and you can have a fantastic results on big events. Being strong cyclist will only help you, especially on the run.

To answer your question on the blisters, I run sockless and never had the issue. Do you have running shoes? It could be the shoes. Have you trained without socks, or was it the first time your feet run without it? It could be that they were not sued to it.
Try using vaseline - put as much as you can into your shoes - especially spots where you know you will have blisters. You will not have time to put it on your feet during transition.
It could also be just your skin. I know there are socks specific for runner to avoid blisters.

Master


3887











Overland Park, KS

Subject:
RE: First triathlon!
What creates blisters is the sliding action of your foot within the shoe. Moisture compounds the issue. This solution is a trial and error type of thing. I go sockless on sprints and typically olympic distance as well. But my run volume this year is very low and I ran sockless in an Olympic race in June and ended up with a couple of blisters. The next race I threw socks on after the bike. Snugger fitting shoes while sockless I think will help the sliding action that can lead to blisters. But not all blisters occur on the bottom of the foot, some can be around the ankle area and in front.

2019-08-30 10:43 AM

in reply to:
0

17



Subject:
RE: First triathlon!
Thanks for the responses. It was officially a sprint; .6 mile swim, 11 mile bike and a 5k run. My time was 1:11.
20 minute swim-lost 7 minutes to leaders. Almost exactly MOP.
26 minute bike-fastest bike split. Made up 3-4 minutes on everyone but the winner, who had the second fastest bike split at 35 seconds behind me.
20:02 run. Winner was high 17's. I think this was the 17th fastest run. I basically held serve with everyone around me on the run, but lost 15-20 seconds in T2.
Blistering- I hadn't thought of putting body glide or chamois butter in my shoes. That's a good idea. I'll definitely use different shoes and will do some sockless running. My last race this season is a duathlon, which I'll wear socks for anyway.
Edited by stevendex 2019-08-30 10:52 AM

17



Subject:
RE: First triathlon!
I used mizuno mushas, which are racing flats. This was my first time running sockless ever. I didn't train sockless, because I didn't do any running prior to the triathlon at all. Yeah, whups.

I did do a duathlon in June, but I wore socks for that. Again, no running before or after the event, but I did manage to run two sub 20 minute 5k's there.

I kinda just entered this tri as a last minute idea. It was local, there's always a good turnout, and the weather was good. I was mostly interested to see how I could do on the bike leg.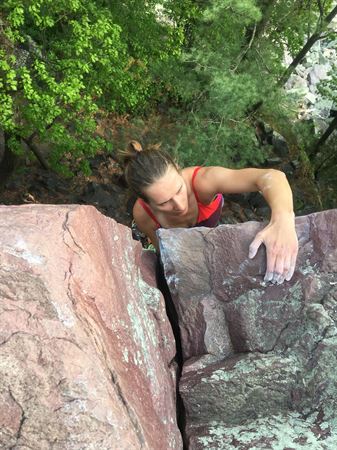 1553






Denver, Colorado

Subject:
RE: First triathlon!
Hmm... I run in Mizunos and never had a problem with no socks. Do try the training, maybe your skin needs to adjust. I hope Vaseline or any body glide will help.

Definitely work on your swim for next triathlon.
Good luck with the Duo!