2008-04-08 10:05 AM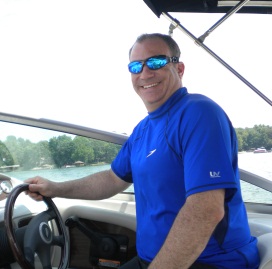 Master


2277








Lake Norman, NC

Subject:
Oh why not?! BFD is in da house!
Newbie to BT. I've been on TNO for 5-6 years or so, an occasional ST lurker/poster and doing triathlons for about 10 years now. For the BT'ers, allow me to introduce myself, 'Bigfuzzydoug'. I'm big (225-lbs), I'm fuzzy (no leg shaving for this beast)... I'm Doug! A former body-builder, married 15 years, father of two, long-since gotten soft and flabby, Network Manager for Food Lion grocery stores. Originally from NY, lived in Israel, been here in the South in NC 18 years now.
I've done mostly sprints and Oly's. I'm a pretty good swimmer (I actually help others more than I can swim fast myself. My BFD's 10 Points to Swimming for Newbies and Novices has gotten around), I'm a decent cyclist as I've been doing that all my life (even did the cross-country thing once) and as for running? Well... Let's just say that 'big' does not usually equate to running. I suffer through a slow 1-hour 10K.
Let's see how long you all can put up with my "unique" brand of twisted humor.

mman

2008-04-08 4:01 PM

peby

2008-04-08 5:34 PM

2008-04-08 5:46 PM

in reply to:
#1324405

Lucy

2008-04-08 6:02 PM

2008-04-09 8:00 AM

in reply to:
#1324682

2008-04-09 10:53 AM

in reply to:
#1325611

2008-04-09 2:03 PM

in reply to:
#1326104