2009-10-29 9:13 AM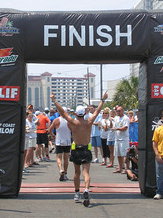 Member


190






Panama City Beach

Subject:
Philadelphia Marathon : Official Thread
OK, I'll start it. 24 days out. This weekend is my last 20 miler and one more interval session and it's taper time. This is my first Philly marathon. I have up'd my training, trained smarter, and if I don't get sick, I am hopping this will be a good race for me.
Does anyone know if they have txt alerts for this race. Disney lets you enter peoples cell numbers, and they get txt messages during the race about your splits. Does Philly have this?

2009-10-29 9:59 AM

2009-10-29 10:26 AM

in reply to:
#2486410

edmac

2009-11-03 10:32 AM

2009-11-03 10:53 AM

2009-11-03 6:56 PM

in reply to:
#2495293

2009-11-19 10:17 PM

2009-11-25 8:15 AM

in reply to:
#2527855