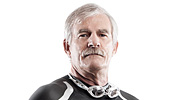 Member


16



Subject:
The Ironman Swim........
I REALLY BELIEVE THIS IS ONE OF THE MORE IMPORTANT ISSUES WHEN IT COMES TO COMPETING IN YOUR FIRST IRONMAN. MOST FIRST TIME IRONMAN ATHLETES TEND TO GO INTO THEIR FIRST RACE WITHOUT A WELL THOUGHT OUT SWIM PLAN. AFTER MANY IRONMAN SWIMS WHERE I DID PRETTY WELL EVERYTHING WRONG, I CAME UP WITH THIS RACE STRATEGY THAT WORKED JUST GREAT. I WANT TO SHARE IT WITH YOU AS MANY OF YOU PREPARE FOR YOUR FIRST IRONMAN. YOU MAY HAVE READ THIS INFORMATION ON "IRONSTRUCK", BUT IF NOT, HERE IT IS......



Your first Ironman race-swim. You've come so far and now the big day is here. The beach is so crowded. You look around with apprehension, self-doubt and possibly just plain fear. Your heart is racing and you wonder if you even belong here.

Of course you do. You've worked long and hard for this. There need not be self-doubt or fear. What you need is a solid plan for the swim and then you can enjoy it.

Ask 100 triathletes which of the three events is most important in determining your final result and this is what you will most likely hear.

--about 80% will say the marathon. The reasoning is that if you a really poor day on the Ironman marathon course it will determine if and how you finish the race.

--around 18% will say the bike leg because it is the longest in distance.

--the other 2% will say it is the swim....and I am in that 2%.

The energy you can use up through inefficient swimming and fighting your way through the pack is lost for the day. You will not get it back for the bike and the run. Its almost impossible to calculate how important a stress-free, efficient swim will be to your final result.

After much trial and error, I've come to the realization that the swim is the most important leg of the Ironman. It goes a long way toward deciding the outcome of the next two events.

Most first time Ironmen have similar race-swim plans. Usually navigating in the open water is an issue for them so they decide they will just follow the buoy(swim markers)all the way to the big marker indicating the turn. Or else they plan to wait for 50 or 60 seconds and then follow the markers.

Trust me when I say----this is the biggest mistake you can make and it will make your swim miserable and will dictate how the rest of your day goes. If you are fast enough to get out with the leaders then start where you want. That means you can do the course in around 55 minutes. That will not be most of you.

I tried the lane marker thing and believe me, it is NOT the way to go. Waiting for a minute doesn't help much either. Look around you and you will see hundreds of other first timers waiting with you. Either way you will be kicked, punched, shoved under water, swam over and nearly drowned. And thats in just the first 10 minutes. It can go on for a long time. It's no way to start your first Ironman race-swim.

Several years ago I was looking at an overhead picture of an Ironman swim start and it suddenly dawned on me where I should have been swimming all those years.

My next Ironman I tried my theory out and I couldn't believe how much I enjoyed the swim. I felt relaxed the whole time. I never got kicked or punched or run into once and I came out of the water feeling like I'd hardly worked. AND, I had a personal best by 5 minutes.

Now I'll tell you how to have a pressure free, relaxed Ironman race-swim.

First, make sure you have worked on your swim stroke to make it smooth, efficient and relaxed. Its a needless waste of energy to thrash your arms and legs as fast as you can for 2.4 miles.

Before the swim start make your way far, far to the left. As far as you can go. You want to the last person out there to the left. You don't want anyone on your left. Well, maybe one or two people, but not dozens. The marker buoys should be way over on your right.

When the gun signals the start of the race-swim, wait 10 or 15 seconds(that's all)and pick your outside line, keeping everyone to your right.

Start relaxed and smooth. Keep your heart rate down as much as possible. You most likely breathe to your right. That's perfect. Everytime you breathe you will see the thrashing arms and legs and everyone else getting knocked silly.

The beauty of this system is that you hardly ever have to look up and try and find the big turn marker. The entire field will eventually collapse toward the lane markers as the turn nears. You just collapse right along with them, always staying on the outside. When you are coming up on the marker, try not to swim right towards it. This is the natural tendency, but will result in more traffic problems. I used to even try and bump against it when I turned and then I would get clobbered by everyone else doing the same thing.

Make a circle around it---5-6 metres away from it if you have to. It will get just as deadly around that marker as it was at the start. Everyone seems to gravitate toward it, feeling this is a good way to save time.

The few seconds extra you take to swim wide around the marker will be paid back many times over. If you get in that crush at the beginning or at the turns, you lose TONS of time and also increase your heartrate from the anxiety. Not only that, it interupts the smoothness of your stroke and your rhythm. It makes you waste energy that you will need later in the day.

Use this system for the entire swim. It doesn't matter if its out and back or out and back twice. You'll find that as you get further into the race, the swimmers will be more spread out and you will probably be closer to the markers. That's ok, as long as nobody is on your left. By making sure your left is free of traffic as possible, you eliminate the chances of someone running into you. Or at the very least you minimize it.

Use this system and trust me that it works, and I guarantee it will take a lot of the worry and stress away from your first Ironman race-swim.

You will feel great when you get out of the water and excited about getting on your bike.


Ray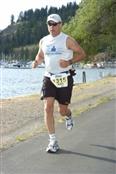 Member


11



Tacoma, Washington

Subject:
RE: The Ironman Swim........
Thanks for the insight. I have IM Wisconsin on my schedule this year...my first...and now that i feel comfortable in the water I really want to leverage the feeling. When I look at my course, however, left becomes right and right becomes left...but the point of staying to the outside is made clear...thanks again.

Lars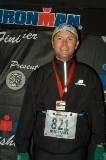 Extreme Veteran


470








Madison, WI

Subject:
RE: The Ironman Swim........
Great Article!

Erlybird- See you at IMWI! This is my third IMWI, so I can give you some great tips on swimming the course. As opposed to Staying way left, you will want to stay to the outside right. There is a ski ramp at the startline. Most people start on the inside of the ramp. I start on the outside of the ramp. Also, I count to 10 when the gun goes off. This helps to create space, and you can prepare for the "tidal wave". Because it is an in-water mass start, you get a pretty big wake towards the back. Then, I go at a diagonal to about 7-10yds outside of the first large bouys. I continue around like Ray said circling the corners. You will do a total of seven 90-degree corners. If you go too far inside, you'll get jammed.

Mike

Regular


122



Southern, Maine

Subject:
RE: The Ironman Swim........
This is great advice, speaking from experience...bad experience at that. My first IM was at Lake Placid, I was nervous about the swim on race day and followed the plan outlined in this message, starting way to the right, finding open water, then found someone to drag behind by the time we hit the corner. It was a great swim for me, no stress, it was like a training swim.

Now we move on to last year. I decided to see if I could start inside near the dock and run the bouys down to the corner. BIG mistake, I got stuck big time in the crush and got kicked, banged, swam over. My time was faster by 5 minutes, which had me all excited exiting the water. Then I got on the Bike..hehe...my body was mush. I lost the 5 minutes I gained in the swim on the bike...plus 30.

By the time the Marathon came I was feeling better, but really had a hard time running steadly.

I finished but was 55 minutes slower then my last IMLP.

So like ytriguy says unless you are a sub 55 minute swimmer pick your starting point very carefully. For reference I do the swim in 1:15.
Have fun Chris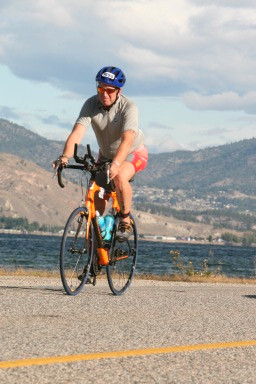 Champion


6931










Bellingham, Washington

Subject:
RE: The Ironman Swim........
Excellent advice. I like to be on the outsides of the pack. Need to go find the swim pictures of the IMCDA start. Just reviewd the map of the course. Looks like a
stay on the right side of pack.
Edited by BellinghamSpence 2006-03-26 9:57 AM

Elite


3498











Chicago

Subject:
RE: The Ironman Swim........
I'm the opposite. I love sluggin' it out in the water so I always swim on the inside lane.
that's just me though.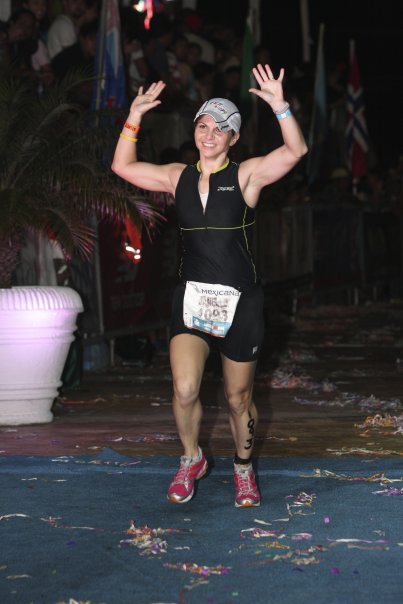 The Original


7834









Raleigh/Durham

Subject:
RE: The Ironman Swim........
Maybe I'll adapt this strategy for IM FL. Thinking about the mass swim start terrifies me!

Regular


122



Southern, Maine

Subject:
RE: The Ironman Swim........
At least in IMFL there are really no boundaries for where you can start, unlike a lake. If you follow the above plan you will have a great swim.
A friend of mine started way out side and stayed outside the whole swim and she was only 2 minutes behind me coming out of the water. She went on to win her age group!
Get a plan and stick with it is the best advice out there.

Or.... If you fail to plan you plan to fail....not sure who's quote that is but it certainly applys to Ironman.

Have fun Chris

Elite


3088







Austin, TX

Gold member

Subject:
RE: The Ironman Swim........
I plan to start IMLP just about as far to the right as I can go and take a diagonal line almost straight to the bouy. Since the first turn at LP is over 1/2 mile from the start, you can begin 500 feet out to the side and only add 30 feet to the swim. I'll take the bouy pretty wide and play the return leg by ear. On the second lap, I'm hoping things will have spread out enough that I can swim the guide wire on the second lap. Having that is one of the benefits of LP. If you can get on that, you don't have to sight at all.