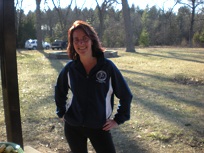 Veteran


267






Peoria Heights

Subject:
Trail running shoe suggestions
I am training for my first ultra in April - 50 mile trail run 75% rugged trail and need some decent shoes for training.
Right now I am running the trails in my New Balance road shoes which are starting to bite the dust. I need shoes that will have very good traction as my training runs are on very hilly trails that are fairly rugged. I will also be running them in ice and snow (Got to love winter in Illinois). I would like something that is light weight.
All of the shoe stores are trying to talk me into the barefoot trail shoes, but I really don't think they will have the traction I need or hold up to winter training. I did look at the Merrell Avian Light Stretch but hesitate to drop $100 on a pair of maybe shoes and couldn't find a lot of reviews.
Any suggestions?
Edited by GmrGirl 2011-11-13 6:44 AM

BigDH

2011-11-13 10:42 AM

2011-12-13 3:28 PM

2011-12-13 8:50 PM

in reply to:
#3937495

2011-12-17 10:46 PM