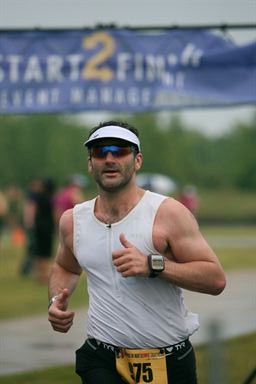 Expert


1310






Alabama

Subject:
RE: Interesting observations from 70.3 medical tent re: sodium
agarose2000 - 2012-04-03 6:08 PM
Danno77 - 2012-04-03 1:38 PM
AdventureBear - 2012-04-03 1:35 PMDoes anyone else see the irony here?
LoL. I know at least one MD that agrees with your post, AB. You know her, too.
For all the doubters who apparently think I'm just making up this recommendation by MDs regarding the value of drinking to thirst for endurance sports:
"A group of experts in this condition has issued a number of papers and recommendations, including an international consensus statement on this disorder published in the Clinical Journal of Sports Medicine in 2005. Joseph Verbalis, M.D., Professor and Interim Chair of the Department of Medicine at Georgetown University Medical Center and a member of this group, recently updated the scientific community on the causes of this disorder in the May issue ofSports Medicine. "
The hyponatremia consensus panel has recommended that everyone, including endurance exercisers, should "drink to thirst" " that is, drink only when you feel you need to. Verbalis acknowledges that this advice is controversial, because some trainers and sports physiologists contend that "by the time you're actually thirsty, you have lost enough fluid to already be dehydrated, so they say you need to drink in anticipation of becoming dehydrated.

"We dispute that notion, and contend that thirst is a good indicator of your body's need for fluids, and that there is a window of time over which you can rehydrate safely," he says. While a person "needs to lose about 1-2 percent of body water before thirst will reliably remind you to drink, losing that little is not sufficient to cause any significant health problems," Verbalis says. "Many of us are often dehydrated to such small degrees, and it does not significantly affect us."
Source: http://www.medicalnewstoday.com/releases/74522.php
(No, it's not the actual science article itself, but it's a summary of the consensus findings.)
Given that this is a CONSENSUS statement, it's pretty good as a recommendation to be followed by most doctors. Thirst is pretty good.
FOr more reading with scientifically backed statements from the MD field, do a google serach on "drinking to thirst endurance training" or something similar, and there are a lot of similar discussions, from MDs that recommend the same, also from more recent dates.
To me: I believe "drink when you are thirsty" is an oversimplification. Yes, that seems easy to say, but may actually play out differently in practice.
And, I'm pretty minimalistic with nutrition.
First, I can't drink while swimming. So, that's fine, everyone understands that. Even though I might get a bit thirsty.
Next comes the transition, which I'm hurrying through transition to get on the bike and get going.
Then, getting started on the bike, when I may finally take a sip of water. Then get settled into a pace. On the bike is where it's hard for me to "drink when thirsty". I'm dialed into a race pace and forget that I need to drink, even if I am thirsty, because I've tuned out. I actually have to remind myself to drink on the bike, to stay hydrated properly. It's nice to have a hydration plan to drink X amount, every X minutes.
On the run, it's a bit easier to drink when I'm thirsty, because it's easier to tell that I'm working hard and need something to drink, usually before the water stops come up, I'm craving water (especially on a hot day, when I wish I had them more often than every mile). So, the drink may not be there when I'm thirsty.
Anyway, all that to say: Drink when you are thirsty, can be an oversimplification. Obviously you don't want to drink, drink and drink more, just for drinking's sake. But, I believe that you have to have a plan to hydrate properly, instead of relying on being "thirsty". I don't think that would work for myself, as I'd forget to hydrate before it was too late (figure it out on the run, that I didn't hydrate properly on the bike portion, because I tuned out, usually while trying to pay attention to cars, potholes, other bikers, etc.).
Coach

9166








Stairway to Seven

Subject:
RE: Interesting observations from 70.3 medical tent re: sodium
crazyprof40 - 2012-04-04 8:57 AM
So what does a newbie do with all this? I've been training for 3 months now, logged quite a few miles (at least for me). Now I am completely convinced that I DO NOT want acute renal failure or any of the other "hypo/hyper-osis" stuff. 
(Btw-did major in exercise science as an undergrad, did enjoy reading the science behind all this, and "mostly" understood it.)
#confused
Start with agarose's suggestions. Take notes on what you do. Are you having any problems? Then do something different. If you're not having problems keep doing what you're doing. Really, he's write it doesn't need to be complicated if you're not having any issues.
However I WOULD reccommend taking notes on what you do in training so you can have a rock solid race day plan (and long training day plan).
Coach

9166








Stairway to Seven

Subject:
RE: Interesting observations from 70.3 medical tent re: sodium
tjfry - 2012-04-04 9:48 AM
Most can't. It's easy to say "weigh yourself before and then after exercise to determine", and while that works fine in a controlled environment, it doesn't really offer much in the real world. If you live in Canada and determine your sweat rate in the fall, then go race Ironman Cozumel (a late November race) your sweat rate won't even be close, and you will visit a Mexican hospital if you follow that hydration plan.
This is spot on. in the example athlete I've been mentioning, while he lived in CO, they were "blessed" with a hot, hot summer...similar to the conditions for IM Wisconsin (even though it's north). Racine half and IM Moo full both had similar conditions to what he'd trained in and taken notes on. incidentally he did to swwat rate tests in 70 deg heat and the rate was much, much lower...so we had quite a collecton of data.
Again, no needt o over complicate...but if you KNOW you have problems, then you need to be very careful and IMO, you can't really collect too much info. You know what you take ona ride, and how hard is it to weigh yourself before & after each one? Just write it all down and then at least you can analyze it if you like.
Edited by AdventureBear 2012-04-04 2:31 PM