2012-10-22 9:19 AM

Veteran


434







Apex, NC

Subject:
Racing strategy advice... the age-old questions
I finished 4th in my AG yesterday in a pretty good sized HIM. For this father of three who was happy with top third until the last year or so, this blows every goal I set for myself out of the water.
However, I can't help but look back and learn for next time. I had a strong swim and then had a really strong bike. I was pushing the pace beyond my goal pace on the bike but went with it because I felt good and suspected I had a shot at a great race. I rode 22.2 and knew I was right up there coming off the bike (in retrospect, I was in first in my AG at that point). I started out running 7:45-8:00 until I hit the wall at mile 6 and started getting passed. My first half pace was 8:00 and my last half was 8:30. When I finished I was running 9:15 and it was all I could do to put one foot in front of the other. I had held on for #4 out of 105 in my AG though and a 4:55 time.
So is this a good race strategy where I left nothing on the table and gave myself a shot at first place?
Or should I have backed off the bike and left a little more in the tank? If 1 mph less on the bike equates to about 8 mins lost, then the last 6 miles at a pace 30 seconds faster wouldn't have made up for it.
Obviously, these are age old questions but I don't have as much experience in these situations as many of you.

Expert


2192







Greenville, SC

Subject:
RE: Racing strategy advice... the age-old questions
i've thought about this same thing, and i can't justify slowing down that much on the bike portion and seeing that much of a time transfer on the run. not sure what you normally run though, if the run paces were way outside your target maybe you could have slowed it down a bit. good placement either way though, congrats
Member


110



Subject:
RE: Racing strategy advice... the age-old questions
First of all GREAT race!!! As for your question I think you need to factor in that if you backed off the bike 1 mph it wouldn't have been for the whole length of the bike course so your "loss" of 8 minutes is flawed. Say you were on the bike and realized about half way through the bike that you were cranking out the miles at 22+and feeling good. If at this point you pulled back to 21 I believe you would have saved some energy for the run not to mention going out slower on the run and trying to negative split. Both are a lot easier said than done, especially when you are feeling so good!
Again great job!!!!
Edited by Running Q 2012-10-22 10:13 AM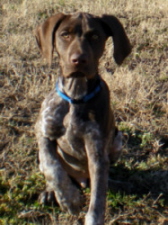 Veteran


189






Mississippi

Subject:
RE: Racing strategy advice... the age-old questions
Couple things:
1. How fast did you run, and how fast could you realistically have run if you would have removed the swim/bike or all of the effort from the swim/bike?
2. You don't have to reduce your intensity/speed by 1mph increments. Perhaps 0.5mph slower would have been the trick.
3. This goes back to #1, but maybe you started the run too fast? Not only could the bike pacing have whacked your run, but your first 6 miles of the run itself may have been too fast for your running ability.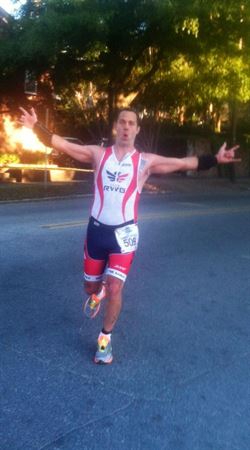 Elite


5145





Cleveland

Subject:
RE: Racing strategy advice... the age-old questions
Tough call, but more than likely saving a little on the bike would have improved your run ... the only debate is whether or not the trade-off would be worthwhile. You'd have to sit down and crunch some numbers to find out how much you'd have to slow the bike and when to make it worthwhile... and, even then you'd still be guessing at the benefit it'd have on your run.
I'd simply take this as a new starting point for my training and set two new goals:
Train to race the bike at that pace (but, perhaps get something more concrete to go off of - heart rate or power)
Improve the run fitness to carry a faster pace off the bike. Make sure you're building in some long bricks into your training.... like, a long ride followed by a 6-8 mile run at your target race pace (just what I'd do... I don't know what others would do).

wiky

2012-10-22 11:15 AM

Master


1411







Lexington, KY

Subject:
RE: Racing strategy advice... the age-old questions
What forced the slow-down on run? Was it a CV issue, or a peripheral issue?
If it felt like a cardio-vascular issue (couldn't get enough air, etc.) then slow down on the ride a little and on the run a little ("a little" determined in training). If it was cramping in the legs, probably need more run mileage to allow yourself to run at the pace your engine can handle (possible nutrition issues also). If low energy, just eat more on bike.
From your description ("hit the wall"), it sounds like you just need to eat more during the ride. Easy to correct that.
And if you want to compete for AG spots in larger races, slowing down on the bike isn't a good idea if you can avoid it! From your description, it sounds like you can avoid it.

2012-10-22 4:01 PM

Veteran


434







Apex, NC

Subject:
RE: Racing strategy advice... the age-old questions
Great feedback! Thanks everyone. A little more info and a few more thoughts.
I recently PR'ed a HM on a very hilly course at a 7:45 pace. If it wasn't hilly, I think the pace would have been more pushing 7:30. So while I might not have been able to sustain 7:45 during this last race after 56 miles, I didn't expect the big slow down. Still, clearly I got ahead of myself and you guys rightly point out that this could have contributed.
The "wall" I felt wasn't peripheral. It was just complete draining of energy. I fueled the same as I have for two previous HIMs and it's pretty heavy (64 ounces of sports drink and 5-6 gels on the bike) but clearly they were not at this same level of exertion. One thing I'm wondering about is sodium. I am a heavy sweater and my clothes were caked with salt at the end of the race but I haven't paid attention to the electrolyte compostion of what I'm taking in. Wonder if this could have contributed.
Most importantly, I like your suggestions going forward. Don't focus on slowing the bike, focus on maintaining the run. I have not traditionally done long runs off the bike in training. I'll start to play with that and also look into other training tactics.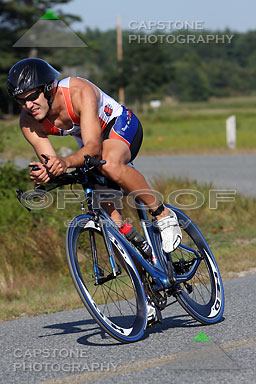 Master


1770








Bedford, MA

Subject:
RE: Racing strategy advice... the age-old questions
Congrats on the high AG finish! It sounds like you may have pulled a Chris Lieto out there. He's pretty notorious for hammering the bike and then having a less than ideal run.
As some others have said, there could be a lot of variables to consider as to why you faded so much on the run.
Here are a few questions that may help with future races:
How many calories per hour did you take in on the bike? Generally, you want to take in more calories on the bike, preparing for the run. I generally target around 300-375 calories per hour on the bike during a HIM, most of which is in liquid form (easy to digest).
What is your weekly run mileage and average pace for training runs and races? You want to roughly target your 'open' marathon pace for the run portion of a HIM. So, say you run a 3:30 marathon at a 8:00 pace, that's the pace you'd target for a HIM. I'd say that in order to have a solid HIM run you should be running 30-40 miles per week, with a weekly long run of 10-13 miles.
What were you using for pacing on the bike - heart rate, RPE, power meter? You said you were probably over your goal pace. If you were using speed, that's actually a poor metric for pacing, as many factors go into speed (hills, heat, rain, turns, etc). I use both heart rate and a power meter, allowing me two metrics to look at. This was especially helpful me for me at Vegas in September, when it was close to 100 degrees, and my power numbers were way off. In this situation I had to revert to heart rate in order to not blow up later in the race.
Did you stay well hydrated? This an area in which sweat rate is individual, and you need to do some trial and error to figure out how to stay well hydrated. At the above mentioned race in Vegas I had eight bottle of liquid on the bike and still felt dehydrated, and that was only a HIM!
Good luck next season - hopefully you'll be able to move up onto the podium!

Master


2563






University Park, MD

Subject:
RE: Racing strategy advice... the age-old questions
Congrats on the solid time. Lots of good advice on here already, and I echo all that Nate said.
But I'd be more cautious about assuming that the bike was fine and you just need to have more run fitness. It's certainly true that more run miles will help a lot - if you're running 40+ mpw then HIM running shouldn't be too bad. But there's a common saying that goes: "there's no such thing as a good bike split and a poor run split". Meaning, if the run went badly, then that means that the bike was overcooked. I think that's probably an oversimplification, but it's an important warning all the same. I think it's worth considering the costs and benefits of holding back a little on the bike, giving you more in reserve for the run. Two reasons to do this:
(i) When things go bad on the run, they tend to go very bad, so a lot of time can be lost very quickly. You want to avoid that at all costs.
(ii) In cycling there's a non-linear relation between power and speed, due to air resistance. I.e., it can take a lot of energy to go just a little bit faster. In running the relation is closer to linear. So it could be that saving 3-4 minutes on the bike would feel a lot easier, and you might recoup all that time and more on the run. There are no prizes for being first into T2.
Also, the better your bike fitness, the fresher you will be starting the run.

2012-10-24 12:03 PM

Veteran


434







Apex, NC

Subject:
RE: Racing strategy advice... the age-old questions
As a final humorous note to this thread, they've updated the race results and I am now placed third! Perhaps someone was removed from the AG because he received an overall ranking? Anyway, I don't care. I'll take the spot! Maybe I'll check in again tomorrow to see if I'm in second.
Seriously though, you all gave me some excellent, thoughtful feedback. I appreciate it!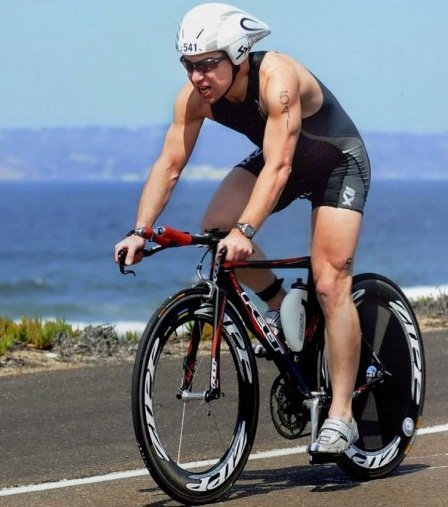 Elite


3498











Laguna Beach

Subject:
RE: Racing strategy advice... the age-old questions
"So is this a good race strategy where I left nothing on the table and gave myself a shot at first place?"
Yes.
What you did is called "racing". All the cards on the table, face up. You leaves your best legs on the course.
There has been an emergent mindset to try to moderate some mystic pacing strategy where, by moderating your effort, time magically warps and your slow, well paced race becomes some super fast performance. Nope.
That's "American style".
The first bike race I did in Europe was a 104 mile road race. I figured that, since it was 104 miles, the first two hours would be "piano" or a moderate tempo. EHHHH. Wrong. They said go, we went 32 MPH. For the next four hours. I, of course, was a spectator by hour two.
The lesson I learned was to leave your legs on the course. Hit the line with nothing. As the Buddhist saying goes, "A perfect fire consumes itself completely".
On the way to learning this you will have some... accidents. You'll go too hard and fall apart in the final miles. You'll go too easy and finish too fresh. Sooner or later you'll find the sweet spot, "feathering the throttle against redline" (Dave Koesel) all the way. That pacing strategy works for everything up to 70.3. At full 140.6 Ironman distance the rules change for us mere mortals, but not for the pros.
Learning that balance is a key skill to develop. I think there is a lot of intuition there- not staring at a power meter.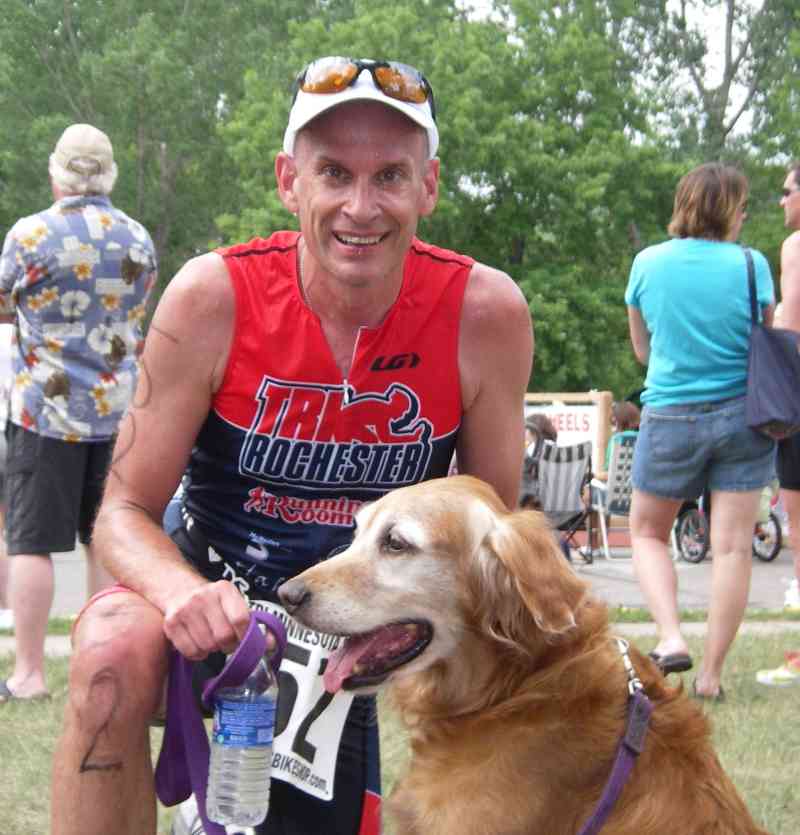 Extreme Veteran


607




Rochester, MN

Subject:
RE: Racing strategy advice... the age-old questions
colinphillips - 2012-10-22 7:26 PM
Also, the better your bike fitness, the fresher you will be starting the run.
I don't think has been stressed enough. Improving your bike fitness will allow you to perform better on the run even with the same run fitness.