2012-11-05 12:59 AM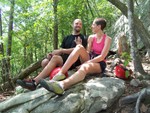 Veteran


312





Columbus, OH

Subject:
Humor me, what does a stress fracture in the foot feel like?
So I know describing pain is difficult, and I know none of us are doctors. With that said, I've been trying to figure out what is up with my foot.
I ran my first marathon on Oct 21. The run was in Vibrams which has been the only shoe I have run in for as long as I have run (2 years). Admittedly I could have probably used one more long run as my longest run before the marathon was only 17 when I was hoping to get up to 18 beforehand. Other than that I felt well prepped for my first marathon.
Since then marathon I have kept my mileage down with only 5 real runs since then (2.5-4 miles) with 1 mile runs and trainer rides on the other days. I expected to hurt after the marathon, and I did but there was nothing that I was immediately alarmed about other than some pretty decent swelling in my right ankle/foot for a day or two after. I wasn't super concerned because my other ankle was also swollen just not as much. Since then, the foot pain that popped up after the marathon has not really gone away.
The pain: It's very localized on the bottom outside area of my right foot, behind the ball area but in front of the heel area. It gets better with icing and worse with running anything over 3 miles. No pain if I push on the "knuckles" of the metatarsals on top of my foot. Whenever the pain is acting up, the area is sensitive to pressure. The best way I can describe the pain is that it feels like a lot of tension. It feels like there is something in my foot that has been cranked too tight in that one area.
Only thing that I have come up with is stress fracture, but I've never had one before so I have no clue what they feel like. Any thoughts?

2012-11-05 1:23 AM

2012-11-05 3:14 PM

2012-11-08 1:07 PM

2012-11-08 11:05 PM

2012-11-12 2:16 AM