2013-04-22 7:18 PM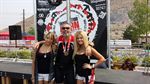 Master


1890










Gig Harbor

Subject:
Colorado Training Partners Needed
I will be in Denver in May and I am looking for local triathletes to be my training partners / tour guides and show me their favorite cycling routes and runs while I am there.
This is part of a road trip I am doing. All details are available in my Road Trip Thread.
Hope you Coloradans can come through for me.
P.S. - I lived in Colorado for 12 years and know the Denver area well, but I was not a triathlete then. I can meet you anywhere from Denver to Boulder - Golden to Brighton and as far north as Thornton.

2013-04-30 9:47 PM

in reply to:
#4710866

2013-05-14 10:14 PM

in reply to:
#4722247

2013-05-16 8:06 AM

2013-05-16 12:26 PM

in reply to:
#4743395

2013-05-16 12:39 PM

2013-05-17 8:29 AM

2013-05-17 9:13 AM

in reply to:
#4746682

2013-05-17 9:59 PM

2013-05-18 8:09 AM

in reply to:
StMaas

2013-05-18 10:48 AM

2013-05-18 3:55 PM