2013-12-22 3:01 AM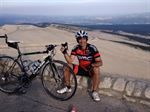 61




Subject:
The Other Way - Training by Feeling and Racing to Train - OPEN
GROUP FOCUS: This group is created for triathletes who just love to be active. Training Plans are great and scientifically give you the best regiment but the downside is that sometimes it becomes work. Just going out and having fun and doing what feels right might be the hidden secret in a successful performance. The whole point of training is to be able to race. You get to travel to a cool place, engage in an activity with like minded individuals, and form an instant community of friends. You get the added effect of pushing yourself to new levels that are inaccessible while training. A high volume race season is a great way to get all of these benefits multiple times in a year.

NAME: pfomalont / Paul Fomalont

STORY: After a lifetime of riding bikes and running for fun I did my first triathlon two years ago. I had a blast and I decided to start competing regularly. I have not really used training plans too much and even when I do I probably have about a 50% success rate. I am active all of the time and love doing a variety of sports. If I want to go skate ski I grab my skis, sometimes after work I just want to go to the pool and swim, other days, when it is beautiful and sunny out I jump on my bike for a long ride. I have found that this constant activity has allowed me to do modestly well in races. I am originally from the United States but now live and work in Switzerland where I have been for the last 5 years. I did my first Ironman last year in Zurich and loved it. I am going to use the Ironman in Los Cabos as a kick start to the 2014 season and for a cool vacation to Mexico.

FAMILY SITUATION: Single

CURRENT TRAINING: I am trying to follow the Beginner Ironman - 20 Weeks HR plan found here at BT.

THIS YEAR'S RACES: 2013 Races: 1 Ironman, 2 Half, 4 Olympic, 1 Long Distance Duathlon (10k - 150k - 30k), 4 local road races 10k, Munich Marathon

2014 RACES: Ironman Los Cabos, Ironman Klagenfurt, Ironman Zurich?, 3 Half (Rapperswil, Luxembourg, ??), many local Olympic tris, many local road races, 4 Duathlons (Powerman series), and 1 end of season marathon.

WEIGHTLOSS: I track my weight but don't stress (most of the time.) During the winter it goes up and in the summer it goes down. Try to go with the flow.

WHAT WILL MAKE ME A GOOD MENTOR: I know that even with the most effective training that I will never reach the elite level. Therefore I just focus on having fun. I want to help motivate others, support them and share their thoughts. Feel there is a lot of success to be had with this and am interested on other people's experience with this type of training. Also am psyched to follow other people's race reports.




2014-02-04 8:41 AM

2014-02-04 7:02 PM

2014-02-08 3:47 PM

2014-02-08 4:22 PM

2014-02-08 4:36 PM

2014-02-08 4:44 PM

2014-02-08 5:26 PM

2014-02-08 7:17 PM

2014-02-08 7:28 PM

2014-02-09 7:48 AM

2014-02-09 8:10 AM

2014-02-09 12:34 PM

in reply to:
swpeck

2014-02-09 12:40 PM

2014-02-09 12:45 PM

2014-02-09 12:52 PM

2014-02-09 1:03 PM

2014-02-09 1:16 PM

2014-02-09 1:47 PM