1



Subject:
Securing Valuables
I am new and I am wanting to be able to ride to the beach and leave my bike and things to swim in the ocean. What do you use to secure your valuables....keys, phone, ID's etc...while off the bike and in the water?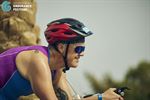 Member


1837








Southern Illinois

Subject:
RE: Securing Valuables
I have a swim buoy with a dry lock side that I use for my keys when I do OWS at the lake. I leave my phone in the car. It isn't exactly the same situation, but I've never had any moisture in my buoy dry lock, so I'd probably put my phone in there anyway.

In any case, you should have something like a swim buoy to help make you more visible when doing OWS, so why not double up?

Champion


7405








Placitas, New Mexico

Subject:
RE: Securing Valuables
This may be hard to imagine, but it is possible to go places without a phone. I'd carry it for rides, but often ran without my phone, even for 2-3 hours at a time.
Your ID is probably plastic. You can tuck it in your swimsuit (assuming you're not wearing loose fitting trunks). I wear a dog-tag style ID (or you can invest in a RoadID).
Key? Single key to your house/apartment should also be waterproof. You can tie it into the drawstring of jammers (if you're a guy) or safety-pin it to the INSIDE of your swimsuit if you don't have a drawstring.

Master


7859










Eugene, Oregon

Subject:
RE: Securing Valuables
Sometimes if doing OWS when traveling I just put my key (hotel key) and ID in a ziplock baggie and then put it into a zip pocket on my tri suit or top (some have them on the tops). I wouldn't trust a paper ID like a passport to that system while swimming, but have used it for small amounts of cash, plastic ID's like a driver's license, and credit cards with no problem, sometimes even in races. That being said, if you are swimming solo in open water, probably best to get one of those personal swim buoys. They usually come with a dry bag for keys, ID, and the like. I have one but have never used it--it was swag in my last race, where I broke my elbow on the run....Can swim a little now but it is WAY too cold for open water in my book--warmest water is 55 and I can't get into my full suit yet. Yikes!
I never used to run with my phone unless expecting a call at a time I needed to be out, just money for a taxi ride home (since I didn't know anyone who could rescue me with a car in Saigon, and it was easy to hail a taxi from roadside anywhere I trained in the event of a bike issue, turned ankle, or the like), but since moving back to the States, I take the phone. Just feel safer that way and also like knowing I can answer calls from my elderly mom, or potential employers right away. I wouldn't swim with it, though.
Edited by Hot Runner 2019-05-03 8:57 AM