2019-07-15 12:15 PM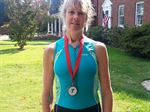 15



Subject:
Opinions on the Swim
So... I know this isn't supposed to happen but the more I swim, the slower I get. I just did a Sprint Tri and I was faster than last year on both the bike and the run but significantly slower on the swim.
I first got into triathlon because I figured it was time to learn how to swim. That was 8 years ago. So I have never been a great swimmer, I started out as a runner.
I have 2 theories (and both may be impacting)
1.) I sprained my left ankle early in the season (broke the same one last year) and also have a right shoulder problem from my new TT bike. I am not riding the TT now but have been riding my rode bike with clip ons. I am thinking both injuries are probably not helping me swim straight.
2.) I am in training for Ironman. I am terrified of swimming 2.4 miles and have been thinking about volume more than anything. I read recently that sometimes when you swim long and get tired so often, your form becomes sloppy. I noticed in the pool, I used to take 17-20 strokes to get across the pool and now it is consistently 20-24.
Any opinions on which would impact more? Any ideas how to overcome? I do have a PT appointment set-up and I know that can only help!
Appreciate all the wisdom out there! I am sure about 98% of you have more swim intellect than I do


McFuzz

2019-07-15 6:23 PM

in reply to:
0

Champion


7416








Placitas, New Mexico

Subject:
RE: Opinions on the Swim
Welcome,
1) Ankle and shoulder injuries. Be attentive to the shoulder, particularly if you're training for an Ironman distance. The percentage of people who sign up but never even start the race due to training injury is higher than the number of people who start and don't finish (or at least it was a few years back). Only about 5% drop out and this includes the pro's who drop after the bike for strategic reasons.
1) The ankle injury can be creating more inflexibility. Depending on your technique, you could go backwards kicking.
2) Volume and fatigue. Yes, form/technique can get sloppy and continuing to swim with sloppy form only reinforces sloppy form. The bulk of your swim training should be 100's and 200's (if you're holding good form) with the occasional 500 time trial. Start with 25's and 50's (and drills).
2) You might consider "swim golf" which is your time plus strokes. Let's assume you can do 1 lap (2 lengths) in 60 seconds plus 20 strokes down and 20 strokes back. Your swim golf score is 80. Maybe you increase your turnover to 24 strokes each way but decrease your time to 50 seconds. Your swim golf score is now 78. Now in your case, you're slowing down AND increasing strokes per length (by almost 30%), so that points to something significant. Either you've lost a lot of power, or you've increased your drag.
3) (Bonus). Given your screen name and history as a runner, you may be prone to sinking legs. If you've lost fat in the last year, you may have made sinking legs more likely which will SIGNIFICANTLY increase your drag.
3) (Bonus). Head position also significantly influences body position. Even a small change lifting your head (like when you breathe) can cause your legs to drop. Back when I did some coached lessons, we did a "Tarzan" drill (swimming with your head out of the water like in the Tarzan movies). I could swim 100's in 1:29, but 50 yards of Tarzan and I was completely gassed!
4) (Bonus). Tension! You mentioned being terrified of swimming 2.4 miles. It doesn't take much tension in your body to really affect your stroke.
L-E-S-S-O-N-S!!!! Find a coach or instructor who can watch you and give you real-time feedback. They can also give you some drills and things to pay attention to between lessons. 2X$50/week for 3 weeks ($300 total) to get you 20 seconds/100 improvement in swim time (not unrealistic) will net you 14 minutes in the race (plus more enjoyable training in the water). A TT bike that gets your bike speed from 17mph to 18mph saves 21 minutes (for 10X the cost).
Edited by McFuzz 2019-07-15 6:36 PM

2019-07-16 2:18 PM

in reply to:
McFuzz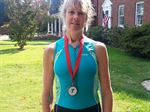 15



Subject:
RE: Opinions on the Swim
WOW that is fantastic analysis and advice. You are a wealth of knowledge Champion and I appreciate this so much!

Can't WAIT to get to PT and get my ankle/shoulder straightened out. I am definitely dealing with ankle inflexibility - this poor left one has been battered over the years.

I have been considering looking for a swim instructor - I think you are right, the time is NOW

Thanks again!

Extreme Veteran


693







Olathe

Subject:
RE: Opinions on the Swim
Consider you might be over trained in the pool.
Hopefully you are working in appropriate down time to recover from the swims.

If you want to get faster, you need to have solid form to be able to then add speed work.
Trying to go faster on bad form results in slowing down, fatigue and possible injury.
Also, typically a lot of athletes will default to more volume in the pool as opposed to drills, sets and varying workouts to build up strength in the water. May not be the best training.

And, I'd bet your injured shoulder and ankle are not helping for sure.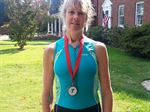 15



Subject:
RE: Opinions on the Swim
Much better swim today thanks to all the advice!

I stopped doing so much continuous and added shorter sets and drills. Already see an improvement.

You guys rock!

Master


8001





Eugene, Oregon

Subject:
RE: Opinions on the Swim
Not sure about others but I found that my average swim pace when doing full-on IM training was about 3-5 seconds slower/100m than when training for shorter events. That was true across the board for all distances at easy and hard efforts. "All-out" really took a nose-dive. I was six seconds slower on a CSS test 200 yard swim four weeks before the IM than two weeks after! I have pretty good (though not perfect) technique and swam competitively as a kid--my coach said some slowdown, probably in all three disciplines, is normal during IM training due to cumulative fatigue, and not to worry about it. That will, of course, be even more of a slowdown if there are also flexibility or technique issues going on.

Training-wise, even when training for full IM, my sets were usually in the 100-200 yard range, 400 or 500 at most, sometimes even 25's and 50's. Maybe once every two weeks, I'd do a longer continuous swim (for a set distance or, in open water, time) to work on endurance and pacing. Never full IM distance--usually 1000 yards to whatever I could finish in 45 minutes). I did some workouts that were close to or just over full IM distance (4000-4500 yards) but most were still in the 3000-3500 yard range, which was typical for me for IM training. I swam a 1:10 on a slightly long course; about 1:08 on a standard one. So I felt like those workouts did prepare me well.