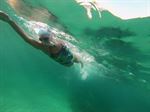 Master


2005



South Florida

Subject:
RE: Ironman 70.3 Florida
Good tip on riding your bike in from the parking lot...it's no big deal and saves the crunch on the bus!
Here's what I remember from last year: swim was pleasant and the lake was clear, no wetsuit - it's may in florida

; bike was FUN on rolling hills that weren't awful but were fun (I live in south florida - read *no hills* and really enjoyed the bike); the run was 3 loops and was like dawn of the dead!! It was hot, surface was totally uneven, grassy with small dirt trails and no shade. By the last loop everyone is miserable and you just keep seeing the same zombies over and over with pure misery on their faces. THey also ran out of coke in the finishers tent by the time I got over there and I had to drink sprite with my pizza. egads.
I really don't like sprite.
OH, and at that time of year, you have to stay hydrated or die.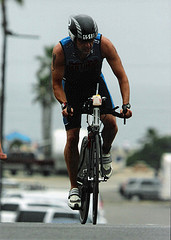 Veteran


138




San Diego

Subject:
RE: Ironman 70.3 Florida


Member


14



Vinings - Atlanta, GA

Subject:
RE: Ironman 70.3 Florida
Counting the days...

I have a question about aid stations on the bike. Will they hand out water and gatorade in bottles? I am thinking in having a strong concentration of my sports drink and dilute it with the water they will give out at the race.

The bike aid stations are in mike 22, 34, and 45. I figured I could grab a bottle of water and dump it into my aerobar Profile Design water holder.

Any ideas here? I don't want to carry all of my fluids from the start.

Thanks
Mario

BIKE AID STATIONS ARE LOCATED APPROXIMATELY MILE 22, MILE 34 AND MILE 45
THERE WILL BE WATER, GATORADE, POWERBARS, POWERGEL. AND FRUIT AT THE BIKE AID STATIONS. RUN STATIONS ARE LOCATED APPROXIMATELY EVERY MILE WITH WATER, GATORADE, COLA, POWER BARS, POWER GELS, AND FRUIT.

Member


70




Subject:
RE: Ironman 70.3 Florida
Here is a 3rd hand opinion; advice given to my son-in-law and passed on to me. It is the perspective of a Kona qualifier which probably colors his opinion just a bit.

He said good course, great mgt. If you have a fuel belt, take it because all the aid stations are congested and you are forced to walk/stop if you use them.

Of course, if walking the aid stations is in your race plan, this becomes moot.


Master


1480










Plant City, FL

Subject:
RE: Ironman 70.3 Florida
Mario...first, GO GATORS!, secondly, yes the water/gatorade on the bike course were in squirt type bottles. I had a hard time getting it in my profile bottle because of the congestion of the area, and lack of a bottle cage to put it in. I ended up taking a huge drink and tossing the bottle. Maybe have an extra cage to put a bottle until you have time to fill up the aero bottle??
Looking forward to seeing everyone out there!


Member


14



Vinings - Atlanta, GA

Subject:
RE: Ironman 70.3 Florida
Great thx. I think I will start with the aero profile design bottle with a strong concentrate of Cytomax (or Hammer Perpetuem) sports drink. I will then add water from the aid station on mile 22 and begin to dilute it. I will bring 2 scoops of the powder on a zip lock bag in case I need to add more sports drink to my mix.

I will keep a separate bottle on my frame cage with Hornet Juice which will be very diluted. I can then add more gatorade or water on the last stop around mile 45.

Best of luck to everyone.

Mario

Master


1480










Plant City, FL

Subject:
RE: Ironman 70.3 Florida
Alright kids...it's time to ride the 70.3 course this weekend. Shoot me an email or pm if you are interested, and I'll get you digits. Most likely Saturday around 11 am, we'll meet at Disney's Fort Wilderness parking lot.
Extreme Veteran


437







Subject:
RE: Ironman 70.3 Florida
Have fun to everyone going this weekend.

I just want to add I will be riding next week or next weekend if anyone wants to go.

I can't make it this weekend.

I probably will be going later in the day to experience the hotter temps which we will have in during the race.

If anyone is interested give me a PM.







35



Subject:
RE: Ironman 70.3 Florida
Hey Guys. I ride on Sunday mornings - a 30 miler on the north end that includes the hills. I'll be at work ( EPCOT ) on saturday , but maybe i can meet you at Ft. Wilderness to say hi / give a heads up on the course. Have fun.

P.S. If you plan on riding on disney property ( the highways ) be careful. It is against disney policy and you may find a state trooper writing you a ticket. I can suggest some alternate routes that include most of the course.

Veteran


227





Brentwood, Tennessee

Subject:
RE: Ironman 70.3 Florida
Just got this email from NAS

SWIM WAVES

NOTE: Be sure to check your wave at Registration and Packet-Up, they are subject to change!

WAVE TIME DIVISION
1 6:20AM M PRO
2 6:21AM W PRO
3 6:24AM CAF
4 6:27AM M55+ / W 50+
5 6:30AM M50-54 / W45-49
6 6:33AM W40-44
7 6:36AM M45-49
8 6:39AM M25-29
9 6:44AM M25-29
10 6:47AM M40-44
11 6:50AM M40-44
12 6:53AM W18-24 / W25-29
13 6:57AM W35-39
14 7:00AM W30-34
15 7:03AM M35-39
16 7:06AM M35-39
17 7:09AM M35-39
18 7:12AM M18-24
19 7:15AM M30-34
20 7:18AM M30-34
21 7:21AM M30-34