2009-04-12 11:47 AM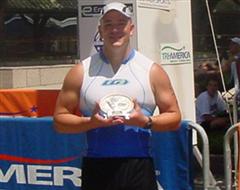 Elite


2796









Texas

Subject:
Bill's House of Pain-No Vacancy
NAME: Bill/Bill
STORY: I started training for my first triathlon almost 5 years ago. I allowed myself to get out of shape and I couldn't stand the way I looked or the way I felt. Since then I've lost around 40 pounds. I have to be careful about my run training. I've had seven knee surgeries so every year I get to continue to race has a bow on it!
FAMILY STATUS: Married with kids.
CURRENT TRAINING: I build my training plans using the template in the Triathlete's Training Bible. I enjoy the planning almost as much as I enjoy training.
THIS YEAR'S RACES: With two new kids and some injuries to heal, I took the 2008 season off. In 2007 I had a 35 minute PR at the Buffalo Springs Lake IM 70.3 and I placed 20th overall the the US Open Sprint Triathlon in Dallas.
2009 RACES: My goal this year is to rebuild my base, race short course so I can ease back into running, and to place top 10 overall and top 5 in AG at the US Open. A major goal for me is to manage my training to avoid injury.
WEIGHTLOSS: I'm currently trying to sort out how to get the the lightest weight for my frame. I'm currently 190 lbs at 11-12% body fat. I'd like to get to 180. The body fat % is an afterthought for me, but 8% is probably where I need to be to get to that weight. I'm not a small guy, and I love to strength train... I try to compromise by lifting for strength and muscular endurance.
WHAT WILL MAKE ME A GOOD MENTOR: I have a lot of experience teaching, coaching, and mentoring trainees and subordinates as a sergeant in the army's 75th Ranger Regiment. That was my favorite part of my military career. I also have a love for this sport, and everything that comes with it. I believe there are SIX events in triathlon: Swim, Bike, Run, Nutrition, Recovery, and Planning. If you neglect any one of the six, your overall performance will suffer, you may get injured, and most importantly you won't enjoy the experience despite having invested at least some time and effort and possibly quite a bit of cash. This is a selfish pursuit. If you have a family, that can become clear within the very early stages of your first season of training. So it's important to manage your time very well. Some days I get up before 5:00 a.m. to train. It's also important to know you can't do it all. There are days when you will have to miss a workout. Knowing what workouts to make up and which ones you can get by without will help you avoid losing fitness and allow you to get the most out of the time you have available.

As far as specific advice goes, I'm not a subject matter expert per se. But at some point I've probably asked every question there is about training and nutrition. I may not even remember all of the answers off the top of my head. But I do (for the most part) remember where I found them. I joined BT in 2004 and I've met more than 100 BTers at races over the years. By and large they are the best people I know. So I want to give something back by helping some of the new BTers in much the same way I was helped when I started. I still call smarter BTers when I have a question...
Edited by Bill 2009-04-19 7:59 AM

2009-04-17 1:23 PM


2009-04-17 2:07 PM

2009-04-17 2:27 PM

in reply to:
#2092243

2009-04-17 2:31 PM

in reply to:
#2092193


2009-04-17 2:37 PM

2009-04-17 6:51 PM

in reply to:
#2092323

2009-04-17 6:57 PM

in reply to:
#2092522

2009-04-17 7:11 PM

in reply to:
#2092891

2009-04-17 7:22 PM

in reply to:
#2092913

2009-04-17 7:30 PM

2009-04-17 8:10 PM

2009-04-17 10:32 PM

in reply to:
#2093249

2009-04-17 11:02 PM

gran

2009-04-18 12:36 AM

2009-04-18 6:27 AM

in reply to:
#2093418

2009-04-18 8:08 AM