2009-12-28 12:41 PM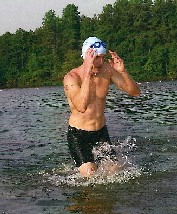 Extreme Veteran


1942









In front of computer when typing this.

Subject:
Bike training duration on trainer versus outside
My training plan for an HIM starts in a few weeks. Last year I did all my riding outside but this year I have a bike trainer, giving me the option of doing some of that inside. The weather here is not nearly as bad as other parts of the country, but it is still miserable to go out at 6am on a Sunday in 20F for a 2/3hr ride. Anyway, if the plan calls for a, say, 2hr or 3hr ride, would you just do the same duration inside or do folks adjust it in any way (e.g. 1.5 hrs on the trainer rather than 2 hrs outside)?

2009-12-28 6:44 PM

in reply to:
#2580883

BenV

2009-12-28 6:58 PM

2009-12-28 7:12 PM

in reply to:
#2580904

2009-12-29 7:29 AM

in reply to:
#2581457

2009-12-29 7:29 AM

in reply to:
#2581457

2010-01-01 9:03 AM

2010-01-01 9:27 AM

in reply to:
#2587579