Member


70




Nashville

Subject:
How do I handle a 70.3 during training for Kona?
Hey folks! I would love some advice.

I was a fortunate winner of the IMWC/Kona lottery. As you know, I have to complete a 70.3 or full IM this year to validate my lottery selection.

I'd love your input on how to handle a 70.3 when it's smack in the middle of my Kona training?

More specifically, I'm looking at the Muncie 70.3 on July 7. Here is my training plan graph: LINK (using the Beginner IM Program here on BT). As you can see, doing the July 7 half Iron falls at the end of period 2 (or Week 6 overall).

Muncie is the best choice for me for a few reasons; mainly because that it's driving distance (cost) and that it's well ahead of the August 31 deadline for validating my entry (in case there's a reason I can't do Muncie, I can pick another).

THE BIG QUESTION: how do I treat this 70.3 in the grand scheme of training for Kona? Do I taper a week prior to be sure I have the energy? Do I rest the week after (and essentially lower the hours in Week 7 here)? Or do I simply stick to the existing training plan, and just use the 70.3 as a helluva weekend?

I know that Kona is priority, so I will literally just finish the 70.3 within cut-offs (i.e. not push myself hard). But the question still remains what is best for my body and overall plans.

Thank you in advance!!!
Edited by kevinlbrown 2012-04-25 11:36 PM


Master


2855









Kailua, Hawaii

Subject:
RE: How do I handle a 70.3 during training for Kona?
congrats on the lottery! how awesome & lucky!!
IMHO, I would treat the 70.3 like a regular race, you are nearly 18 weeks from Kona at that point, which is a huge amount of time.
figure in a week taper, and a week recovery, and then pick up the pieces to ramp back into a IM plan.
I wouldn't play around with the 70.3, it's a real race and no way to make into a training weekend. You don't want to hurt yourself and have a problem getting back into the IM plan.


Subject:
RE: How do I handle a 70.3 during training for Kona?
Unless you're absolutely confident you can complete the HIM without a taper, I would treat it as a normal race. Because if you have a bad day and DNF, well...you might not get another chance at another 70.3 to validate your Kona slot.
Good luck and congrats.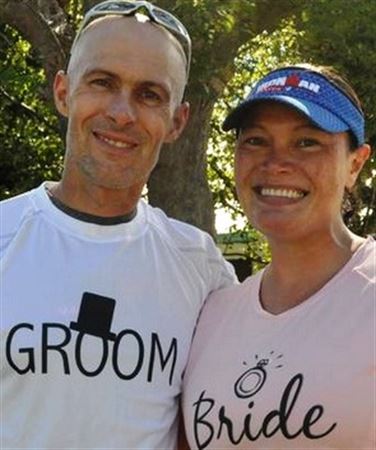 Melon Presser


52080
















Subject:
RE: How do I handle a 70.3 during training for Kona?
Congratulations!
You have a pretty good start on training in your logs (thank you for keeping them!) What are you planning to do during May? My point is that though the 70.3 falls Week 6 of the iron plan, you'll actually have been training for quite a few weeks before that. You may not need much of a taper, especially if you take the workouts a little easier that week. Swimming, for example, you can probably do right up to the race; no need to pull back on the long bike the weekend before, just no crazy hills or anything; running you might want to cut the volume that week a bit.
Also, if you will be hitting close to the cutoffs, do give yourself some margin so you absolutely ensure you make the cutoffs in case you have a flat/mechanical or need to puke or something on the bike, or need to patch up a scrape in T2, stuff like that. (Also make sure you know how to fix common bike problems quickly even when you are wet, tired, dizzy, hot, etc. and have something like duct tape around in T2 in case you need to fix part of yourself or your running gear). Preparation is usually prevention.
Provided your training has gone well thus far, you probably won't need a lot of recovery afterward--couple of light days and then back at it.
That's just my experience with doing HIMs (or simulations) in the middle of Iron plans. All the best!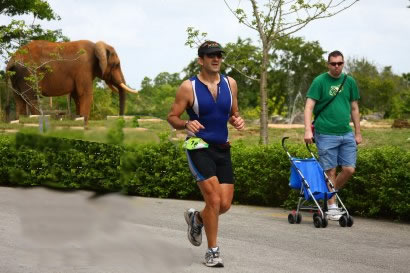 Master


2158






Subject:
RE: How do I handle a 70.3 during training for Kona?
I agree that you should treat the race with respect.
Lighten up on your workouts the week before, but you wouldn't need a full taper.
It will also probabaly necessitate a little recovery, but since you are well trained, it shouldn't be too bad. Maybe avoid intervals and extra long work the week after.
I wouldn't plan on racing at your absolute hardest, but plan on working hard.