2013-05-02 1:19 PM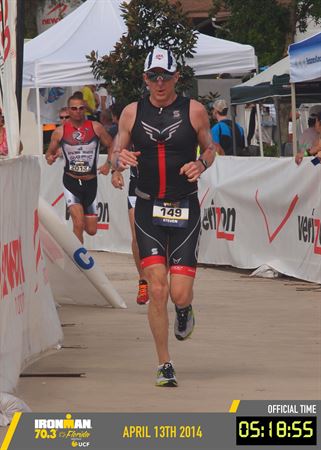 Regular


1126





East Wenatchee, Washington

Subject:
Gray Guy/Girls Tri--Masters Sprint/Olympic Mentor Group CLOSED
GROUP FOCUS: Master's Athletes age 45+, Sprint/Olympic Distance and Duathlon
NAME: lutzman (BT screenname)  / Steve Lutz  

STORY: I'm a long term distance runner who jumped into Triathlon a few years ago.  Like many older athletes, I found the constant pounding of marathon (run only) distance training to be increasingly injury plagued. I switched to multi-sport to broaden my fitness base and hopefully reduce the running related injuries.
The challenge I find is that most training programs seem suited to the type of training levels/recovery I could sustain in my 20's and 30's.  It's just not the same once you cross that magical age 50+ line.  While the competitive fire burns bright, times get slower, the legs often feel heavier, weight inevitably creeps up and recovery times are longer.   To me, a mentor program really focused on older athletes (boomers) would be really valuable to a lot of folks like me.    
I've had a great ride as a distance runner, qualifying and completing the Boston Marathon three times, Chicago Marathon three times, New York marathon as well as marathons in Atlanta, Seattle and many other smaller races.  Running is great, but multi-sport is an entirely different set of challenges.  
Since getting going in Triathlon, I've completed 19 triathlons and earned Age Group All American Honorable Mention (top 10% nationally) ranking in 2012. 
FAMILY STATUS: Happily married 31 years with three sons, all grown. 
CURRENT TRAINING: I generally train between 9-12 hours per week.  This typically includes 3-4 training sessions per sport with one or two additional sets in the gym focused on weight training (very important for older athletes due to declining muscle mass).  In addition, I'm working with a swim coach two days a week (half hour sessions) to focus on technique, interval times and swim workout planning.
2012 Races--Desert Triathlon (6th AG), Hits Napa Olympic (1st AG), Hits Mable Falls Olympic (1st AG), Moses Lake Sprint (1st AG), Family Fitness Olympic (2nd AG), Five Mile Lake Sprint (2nd AG), ChelanMan Olympic (2nd AG), USAT Age Group Nationals (59th AG), Kirkland Sprint (2nd AG), Hits Palm Springs (1st AG, 12th overall) 

THIS YEAR'S RACES: So far this year I've done the Lavaman Waikoloa (6th AG), the ITU San Diego Olympic (6th AG), Apple Capital Duathlon (1st AG) and the USAT Duathlon Long Course National Championship (3rd AG). 

2013 RACES:  Plans for the balance of the year include the Family Fitness Olympic, Five Mile Lake Sprint, ChelanMan Olympic, USAT Age Group Nationals Olympic, Duathlon Standard Distance Age Group Nationals and the Hits Palm Springs Olympic

WEIGHTLOSS: Triathlon has really helped my weight. Being a runner, I was never heavy, but the full body workouts have helped me drop some extra weight that had been stuck with me for awhile.  When I was a decent runner (age 25-35) and could run a mid-30's 10K, my weight was about 152.  I gained over the next 20 years and was sitting at about 170.  That's not too bad since I'm 5'10", but I'm now down to about 159, which is a very good weight for me for endurance sports.  

WHAT WILL MAKE ME A GOOD MENTOR: I'm a student of everything I do.  So, I've got a swim coach working with me on form.  I've consistently had a triathlon coach helping me with workout and program design.  And since my work life focuses on statistics, I'm pretty analytical.  I've had good success in a short amount of time in triathlon and I would like to continue to learn from others but also share what I've learned from 30+ years of endurance sport training....while focusing on how workouts can be adjusted to better align with the needs of other athletes.
I would need to start posting workouts on BT again.  Since my coach uses another site, I've been putting my daily workouts there and just surfing BT for the information and camaraderie.  But, I would certainly start posting on BT again as a mentor.
Edited by lutzman 2013-05-17 9:08 PM

2013-05-03 5:08 PM

in reply to:
#4726348

2013-05-03 5:59 PM

2013-05-03 7:47 PM

2013-05-04 3:50 PM

in reply to:
#4726669

2013-05-04 3:51 PM

in reply to:
#4727058

2013-05-04 5:58 PM

in reply to:
#4727351

2013-05-04 6:28 PM

2013-05-04 7:47 PM

in reply to:
#4727456

2013-05-04 7:48 PM

in reply to:
#4727500

2013-05-04 7:50 PM

in reply to:
#4727484

Bull

2013-05-04 10:52 PM

2013-05-04 10:58 PM

in reply to:
#4727637

2013-05-04 11:17 PM

in reply to:
#4727664

2013-05-04 11:21 PM

2013-05-05 7:17 AM

2013-05-05 10:39 AM

in reply to:
#4727780

2013-05-05 11:07 AM

in reply to:
#4727904

2013-05-05 4:26 PM

in reply to:
#4728120