2016-12-28 8:16 AM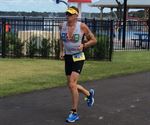 Veteran


1016



Deep South, Georgia

Subject:
The Dominon - Beginner Focused Group - Closed
Mentor: Chris
Story:
Welcome to the Dominion! This will be year 4, and we have a dedicated group of returning members and are always ready to welcome new members as well. 2017 will be my 6th year of racing tri's. I have a training philosophy of balance and consistency. I coach part-time with a focus on beginner athletes at the Sprint and Olympic distances. This year I plan to compete in both the Georgia Endurance Series and Set-up Events South Carolina Triathlon Series. That will mean a 9 race commitment in total, including one Half Ironman. Add in a half marathon in February and a local 5k series and it means a very busy 2017 season for me!
I check the BT site and our group almost daily and try to reply to questions and topics within 24 hours. Many others within the group do so as well. If you're looking to get started in this sport or improve your results at the Sprint and/or Olympic distance than this might be the group for you. All levels from 1st timers to seasoned ironman finishers are welcome!
What will make me a good mentor:
I have a true passion for this sport and for a healthy and active lifestyle. I am willing and interested in helping anyone looking to get into triathlon or those already competing who want to step their game up and be more competitive. Along with my racing experience, I am a Certified Fitness Trainer. I don't claim to know it all, but I feel I have been doing this long enough and well enough to be able to answer questions and help others improve in the sport, get started in the sport, or just improve in the areas of health and fitness.

If you would like to join, please post a brief bio with your name, any endurance sport experience you may have, and what your goals are for 2017.
I look forward to some new faces as well as many returning members this year!
Edited by Dominion 2017-01-17 8:08 AM

Roys

2017-01-01 2:50 PM

2017-01-01 5:34 PM

2017-01-01 8:37 PM

in reply to:
Roys

2017-01-01 9:04 PM

2017-01-01 9:34 PM

2017-01-02 7:52 AM

2017-01-02 2:21 PM

2017-01-02 3:49 PM

2017-01-03 7:00 AM

in reply to:
emsley05

2017-01-03 7:17 AM

in reply to:
balm426

2017-01-03 7:23 AM