11



Subject:
Training two times a day for first olympic
Hi, i would like to get your opinion on doing swim session in the morning for 5 days in a week(monday to friday) and in the afternoon run or bike session depending on some 12 week program i will go by? In past 3 months i get almost 3 minutes faster on 1500m doing 3 swim session per week so i was wondering could i take of even more then that if i swim almost every day untill race. Would that be usefull and could it hurt my bike or run?

1203





McAlester, Oklahoma

Subject:
RE: Training two times a day for first olympic
That plan sounds exactly like what my brother did for his Full Ironman Training in 2002. He hit the pool every morning when it opened at 5:00AM then rotated run and bike days. I personally do the opposite. I swap bike/run days in the morning when I did my first Triathlon in 2015 and swam over my lunch break 4 days a week.
No swimming more will not hurt you bike or run. unless you have to cut out bike and run work outs to get your 5 swims in.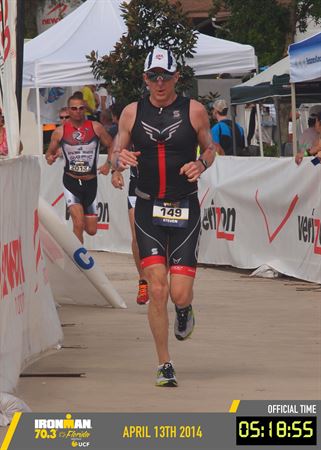 Regular


1126





East Wenatchee, Washington

Subject:
RE: Training two times a day for first olympic
Just watch your fatigue levels. Rest and recovery are critical to getting faster, too. As long as you're giving yourself a recovery day every week and a light week about every 4th week, you should be fine.

Master


8083








Eugene, Oregon

Subject:
RE: Training two times a day for first olympic
I agree. Swimming daily or almost every day shouldn't tire out your legs for running and biking (assuming you have swim skills beyond the beginner level), but it could affect your overall fatigue levels if every single swim is a hard workout. if swimming 5-7 days a week, I would make three of them longer "key workouts" focusing on fitness and endurance; maybe 1-2 of them with more of a technique focus with mainly drills and shorter, faster repeats, and the other 1-2 easy recovery swims. It would probably be better to do the easier swims NOT in a master's swim situation, so you don't end up tempted to hammer a workout when your body really needs a recovery session.

Extreme Veteran


693







Olathe

Subject:
RE: Training two times a day for first olympic
Pouring in more hours in the pool can help... but building endurance on bad form may make you marginally faster.

Not saying your form is bad, I don't know at all, but if you worked on technique with drills as well, you could probably get faster as well without additional hours in the pool and unnecessary training, unless chlorine is your thing.

If you enjoy swimming, jump in!

8



Subject:
RE: Training two times a day for first olympic
There's more to being tired than just muscular fatigue in your legs. If you are swim training the way you should be, it is definitely fatiguing. Unless swimming is a SEVERE weakness for you, I would not follow that plan. It is true that swimming more will make you a faster swimmer, but you are racing a triathlon and you need to figure out the schedule that will get you the fastest overall time. Biking and running improvements (or deficiencies) will effect your time more than swimming.
For me, I swim 3 a week in the "off season", 2 times a week during the season. I'm an "adult onset" swimmer. Since I do not have that childhood swim background to fall back on and I am not swimming a lot, I need to make sure that my swim practices are very effective. I always go to masters, with coaches that know me, my goals and my schedule. Every practice has a purpose, and has a stroke development focus, but I also a fitness focus. So I'm always thinking about some aspect of improving my stroke, and I'm also always swimming HARD, at least for the appropriate part of the workout.
That leaves me the time I need to really work on bike and run fitness. In a week with 13 hours of training, only 2:10 to 2:30 of that will be swimming during the season.
Edited by RowToTri 2018-04-06 10:27 PM