2021-12-31 1:15 PM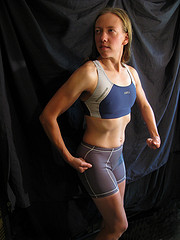 Master


2196







Columbus, Ohio

Coaching member

Subject:
Alice Foeller's Badass Beginners & Enders - OPEN
GROUP FOCUS: Open to any triathletes. Special focus in long course. My personal race schedule this year begins with a 24-hour relay of trail running, followed by American Triple-T, which is four triathlons in one weekend totalling 140.6, and Ironman Maryland in September.

NAME: Alice Foeller

STORY: I've been a triathlete for the past 23 years and I started at a little tiny sprint at a YMCA in Illinois/Metro Chicago when I was in my early twenties. I took some breaks when pregnant and with little ones. I've written for this website for a number of years, and ultimately purchased it from its founder a few years ago. I love to do research. I love to keep going. I'm not fast.

FAMILY STATUS: Divorced with a new legal domestic partner. Co-parenting two teenagers with my ex-husband, who is a great guy and also a triathlete.


CURRENT TRAINING: I use the Custom Training Plan Creator here at BT to build a plan for each race. Right now I'm following an Ironman plan to get ready for Triple-T, even though it's not exactly an Ironman. I build two weeks and recover the third week.


THIS YEAR'S RACES: In 2021: Ohio 70.3, Ironman Indiana, Columbus Marathon


UPCOMING YEAR'S RACES: The Buck Fifty, a 10-person relay team run; American Triple-T in May, Ironman Maryland in September


WEIGHTLOSS: Keeping an eye on general body composition. I'm a 45-year-old woman and it's becoming a struggle to keep the body composition I want even when I train a lot.


WHAT WILL MAKE ME A GOOD MENTOR: I've never been a mentor here, but I'm committed to being more involved with the site this year, and being on the front lines seems like a great way to do that. I'm sure our conversations will spark new article ideas and maybe even get me to resurrect the BT podcast I started a couple of years ago.



2022-01-07 11:53 PM

2022-01-10 11:02 AM

2022-01-10 11:06 AM

in reply to:
Krshaw78

2022-01-11 3:16 AM

in reply to:
#5279192

2022-01-11 9:52 AM

in reply to:
Krshaw78

2022-01-11 9:54 AM

2022-01-12 1:44 PM

in reply to:
#5279361

2022-01-13 8:25 AM

2022-01-15 7:20 AM

in reply to:
#5279394

2022-01-15 4:11 PM

2022-01-15 10:05 PM

2022-01-15 10:05 PM

2022-01-17 9:23 AM

2022-01-19 2:09 PM

2022-01-19 2:54 PM

2022-01-20 1:10 AM

2022-01-20 10:08 AM

2022-01-21 11:32 AM

2022-01-29 11:24 PM

2022-01-30 11:11 AM

2022-02-09 2:34 PM

2022-02-27 8:06 AM