2022-12-20 1:35 PM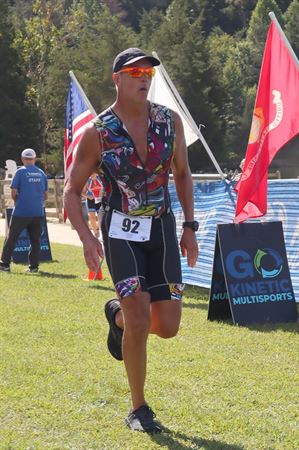 Expert


4424








Middle River, Maryland

Bronze member

Subject:
Beer Drinkers Appreciation Society (BDAS) 2023 Mentor Group - ALWAYS OPEN
GROUP FOCUS: Everything related to endurance sports, we have sprint-focused and IM-focused triathletes and a cyclist, a competitive swimmer, and people that dabble in other sports to keep the legs moving
NAME: jmhpsu93 / Mike
STORY: I've always been an athlete, from cross-country and track in high school, to basketball and volleyball through my 20s, soccer here and there, and finally got into endurance sports in my late 30s when I couldn't do competitive sports as much. I've completed 5 HMs, about 20-30 5/10Ks, 10+ triathlons (mostly sprints). I've been through some back and knee injuries (with the surgery scars to go with them) so I have to really manage my volume and what I do to my body. 2022 was a strong return to triathlon with 2 completed races, one sprint and one Oly.
FAMILY STATUS: Married for 20+ years to a former triathlete, 20 YO daughter in college who was a competitive swimmer and faster than me in the pool by the time she was 11.
CURRENT TRAINING: I'm in base training for 2023 right now, with a full schedule of sprint and Olympic triathlons, plus some bike races through the summer. Hoping to qualify for Age Group Nationals in June.
UPCOMING YEAR'S RACES: Clermont Sprint Triathlon (March), Rock Hall International (June), Lums Pond Sprint (August), Patriot's Olympic (September); maybe a couple of time trials and criteriums as time permits
WEIGHTLOSS: Currently weigh around 205, racing weight is 195 - it's easy for me to drop to 200, the last five are brutal and take real commitment to nutrition which I'm terrible at.
WHAT WILL MAKE ME A GOOD MENTOR: I've been a mentor or mentee for over a decade, and with this group I think about seven years. We're a great group welcoming of all newcomers and we all mentor each other. We have members in several countries which makes for some great perspectives.

2023-01-01 4:29 AM

2023-01-01 4:42 AM

2023-01-01 7:39 AM

2023-01-01 8:05 AM

2023-01-01 10:04 AM

2023-01-01 10:30 AM

2023-01-02 12:39 AM

2023-01-02 6:15 AM

in reply to:
0

2023-01-02 6:22 AM

2023-01-03 4:08 AM

2023-01-03 8:05 AM

2023-01-03 8:12 AM

2023-01-03 9:36 AM

2023-01-03 10:34 AM

in reply to:
#5283710

2023-01-04 12:01 AM

2023-01-04 12:06 AM

2023-01-04 11:51 AM

2023-01-04 11:57 AM

2023-01-04 3:22 PM

2023-01-04 3:49 PM

in reply to:
Helen120

2023-01-04 4:30 PM

in reply to:
Helen120

2023-01-05 12:21 AM

2023-01-05 2:18 AM

in reply to:
#5283819