2006-10-24 9:55 AM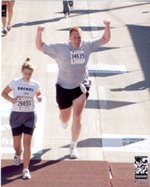 Champion


6992












Chicago, Illinois

Subject:
should there be a universal time limit for marathons?
IM give you 17 hours no more no less.

should there is a maxium time limit for marathons and if so what should it be?

Honaloolou (sorry about the miss spelling) had 1/3 or about 7000 of its runners finishing after 6 1/2 hours 2000 after 8 hours about 300 after 10 hours and 10 after 14 hours.
Cleveland had 74 people they were calling finishers given 11 weeks. ok that was a JR high get get active program but telling them there all marathoners now since they did avg 2 miles a week is also kinda silly. Under that plan my mom who barely walks would be a marathoner. Chicago had a better one though. take intercity teens and have adults train them and run with them during the marathon. I can respect that alot since well you are changing someone's life and really making an impact.


Its great to see people go out there and do these things but where do we draw the line if we bother to draw it and should we bother?

2006-10-24 9:57 AM

2006-10-24 10:18 AM

2006-10-24 10:30 AM

2006-10-24 10:31 AM

in reply to:
#576817

2006-10-24 10:33 AM

in reply to:
#576802

2006-10-24 10:48 AM

in reply to:
#576837

2006-10-24 10:49 AM

2006-10-24 10:55 AM

2006-10-24 10:55 AM

in reply to:
#576793

2006-10-24 11:06 AM

2006-10-24 11:08 AM

in reply to:
#576893

2006-10-24 11:09 AM

2006-10-24 11:12 AM

awol

2006-10-24 11:19 AM