Race director jailed *long*

Elite


3235







San Diego

Subject:
Race director jailed *long*
I just got this from the Boulder Triathlon club:
Those in Co. might be interested
I am sure most of you know this already but I had to find out the
hard way. I was a client of his in Wisconsin and he owes me money.
Guess I won't be collecting for the business I did with him putting
his ad for Race The Rockies in our publication. What a liar and a
scum bag.
Race director jailed, triathlon canceled
Jeffrey Kline arrested for violating his parole
By Chris Barge, Camera Staff Writer
September 19, 2004
About 250 women who planned to swim, bike and run in an official
sprint-distance triathlon in Boulder this morning have had to make
other plans. Turns out, their race director is in jail.
Jeffrey Kline, 49, who has produced several successful beginner-level
race events over the past year in and near Boulder, was arrested
Sept. 8 for violating his parole.
News that he was even on parole shocked almost everyone with whom he
did business, including, apparently, his fiancee.
He canceled today's race, and called off his own wedding, which he
said had been scheduled for last Sunday.
Questions about Kline's business dealings further intensified last
week when a woman who won a Honda Civic Hybrid in a raffle Kline
conducted had her prize repossessed because the car had not yet been
fully paid for.
In an hour-long interview Saturday at the Boulder County Jail, Kline
said all of the developments were a result of "good intentions gone
bad."
He said he was on parole following a 1999 conviction for check and
credit-card theft in Boulder County. He was arrested this time, he
said, after his parole officer made a surprise visit and found two
empty kegs at his home. Possessing alcohol was a violation of his
probation.
Kline said his arrest had nothing to do with his dealings as a race
director.
"You know, I'm not a bad guy anymore," he said. "I was someone I
wasn't proud to be. But I have spent two years developing a new
persona."
Kline said he has been arrested before 1999, in both Colorado and New
Jersey.
"I have a history of check and credit-card problems," he said.
He declined to elaborate on his past arrests, but a Colorado Bureau
of Investigation report showed a history of six arrests in Boulder
County dating back to 1994 on charges of larceny, check fraud and
forgery.
A Daily Camera police blotter item from September 1999 notes that
Kline was turned in to police by his wife of two weeks at the time,
for allegedly making $8,000 in purchases by forging her name on
checks and credit card receipts.
He was arrested then on suspicion of violating his probation. One of
the conditions of his probation then was that he not have a checking
account or any credit cards.
Kline said he had a career in sales until a couple of years ago, when
he began training athletes to run triathlons. This year, he started
directing races and running events — which were successful, by many
participants' accounts.
Last April, he started 5-kilometer "Dash and Dine" events, which
offered runners a fun race leaving from Coot Lake and ending there,
where he held barbecues, all for $9. He put on 12 of those, through
the summer.
He also successfully pulled off three "Race the Rockies" sprint
triathlons, in June, July and September in Boulder and Estes Park.
Several runners who have raced with Kline said his races were fun,
well-organized and affordable.
"Jeff executed nine races for beginners and helped a lot of people
participate in a different sport in a doable way," said Barry Siff, a
Boulder adventure racer, Iron Man triathlete and producer of
Boulder's 5430 Triathlon. "He unfortunately apparently has an ethics
issue and financial issues, and unfortunately this has affected
people in a very negative way."
Wearing a blue jail uniform at the jail on Saturday, Kline said that
if you talk to people he has trained, they will say he's an excellent
trainer. He referred to two of his athletes in particular, who
visited him on Friday at the jail, as people who would vouch for his
character.
But the athletes, who confirmed they visited Kline on Friday to hear
for themselves what he was up to, said they felt betrayed.
"He can kiss my you-know-what," Nadia Bolz-Weber said . "He's a great
coach, but none of us had any idea that any of this stuff was
happening."
She said she asked him several questions "point-blank" during her
visit about today's Boulder Divas race. But upon following up, she
said, she found his answers to be false.
"It was just one lie after another," she said.
Most of the athletes paid about $50 for this morning's race. Many of
them received an e-mail notice last week as a favor from the Boulder
Triathlon Club.
The e-mail said the race was canceled and refunds might not be
possible because the race director did not follow proper USA
Triathlon guidelines, did not hire police for safety and did not buy
insurance for the race.
"While we are sad that the race is not happening, it would have been
a dangerous situation for the racers," the e-mail stated. "We are
thankful that you were not put at additional risk."
Kline said he has about $8,000 set aside for refunds, and that
everyone should receive one in the next four to six weeks.
"So I'm not a fraud," he said. "I'm just stupid."
If each of the 250 participants paid around $50, however, the amount
owed would be about $12,500 in all.
Kline said he plans to stay in jail until around Sept. 29. He said
his probation hearing has not yet been set.
He said he will not continue to direct races.
"I think this has pretty much destroyed my reputation," he said. "So
unfortunately I don't think I'll be able to continue on."
Contact Camera Staff Writer Chris Barge at (303) 473-1389 or
[email protected]
.
Tom

Expert


1836








Lafayette, CO

Subject:
RE: Race director jailed *long*
Sorry to hear he owes you money, Tom.  I honestly wish you the best of luck collecting.  I met the guy, he just seemed hyperactive to me, but I only met him once or twice.
I love that line: "So I'm not a fraud, I'm just stupid".  Wrong Jeff!  You're BOTH!

Elite


3235







San Diego

Subject:
RE: Race director jailed *long*
Sorry Joe,
He doesn't owe me money. I thought I would pass this on to those in CO.
Tom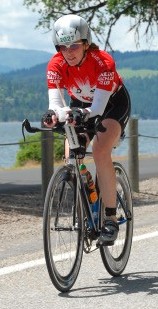 Pro


4228







Broomfield, Colorado

Subject:
RE: Race director jailed *long*
He owes the person who wrote the email money - the email was sent to the Boulder tri club. 
Still hoping to get my race entry fee back!  Doubt it though.