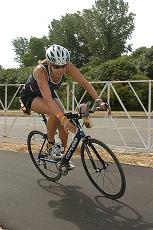 Master


1702






Southern Ontario

Subject:
Does Cadence Really Matter?
Okay - please don't throw things...

I know that we are supposed to spin between 80-100 RPM and actually - one of the roadies I rode with on the Lung Association ride commented on my cadence being very low. I'm not sure my chain and derailleur even know that there is a smaller chainring up front...I'm always on the larger chainring.

It's completely flat here. There's lots of wind - but no hills.

Will pushing bigger gears with lower cadence really affect my riding? If I can sustain speeds for extended periods of time - do I really have to change my riding style? When I spin faster it makes me feel more tired.

Thanks!

Donto

2009-06-01 11:49 AM

losta

2009-07-23 11:31 PM

2009-07-24 8:42 AM

in reply to:
#2305102


2009-07-24 12:05 PM

2009-07-24 1:54 PM

in reply to:
#2305955

trix

2009-07-24 1:58 PM

2009-07-24 4:20 PM

in reply to:
#2306327