2011-06-17 12:17 PM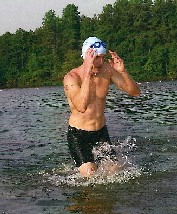 Extreme Veteran


1942









In front of computer when typing this.

Subject:
Road rage guy around here
Hi - this is a bit of an essay so bear with me. Some of you probably know this from my workout log, but over the past year or so, I have gotten honked at and buzzed by the same guy (I ride to work on occassion and (I suppose he takes the same route home as I do). This is no funny buzzing or friendly honking but HOOOONK and whoosh so close that your bike moves from the wind. Anyway, it happened again the other day and I told a friend (who is a cyclist) about it. He then forwarded me an email/post from a cycling group's blog about someeting similar that had happened to several guys he rides with. Anyway, it is the same guy! I have seen him tailgating cars and buzzing through stopsigns when I am in my car. He is VERY aggressive to cars as well (not sure why that makes me feel a little better...guess I don't feel quite as targeted). Anyway, he drives a green 2007 Tundra and lives out on 751 somewhere. His business is just north of Alexander Dr in RTP, on Route 55, so his commute takes him down 55, up O'Kelley Chapel, through Amberley, past Cary Park and out to the berry patch on Morrisville Parkway- a route that many of us ride. This guy is really bad news- apparently the cycling group took out a restraining order on him and he has been arrested for vehicular assault (or something of that nature) a few years ago. Apparently he feels that cyclist are arrogant and should die! Sadly, we know his business address, his car, his name, etc. but it still doesn't make us any safer, so please be careful. I am actually modifying my route home and time I leave work so that I can reduce the chance of running into him. Bike vs Tundra = loss for the bike. So again, please be careful.

2011-06-17 1:04 PM

2011-06-17 1:13 PM

in reply to:
#3554508

2011-06-17 3:05 PM

in reply to:
#3554582

2011-06-17 5:04 PM

in reply to:
#3554739

2011-06-17 9:05 PM

2011-06-18 6:32 AM

in reply to:
#3555202

2011-06-18 4:28 PM

in reply to:
#3555574

2011-06-18 4:43 PM

2011-06-18 5:47 PM

2011-06-18 6:21 PM

2011-06-18 10:09 PM

2011-06-20 10:00 AM

in reply to:
#3556046

2011-06-20 10:04 AM

in reply to:
#3556046