2013-09-08 4:36 PM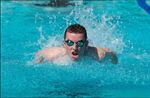 Member


166





Delco, PA

Subject:
Best Non-IM-Branded 70.3s in Mid-Atlantic
I'm planning on racing my first HIM next summer sometime between late July and October. I'll only be 17 so can't participate in IronMan Branded events. A few races I've looked into are Rev3 Half-Full in Maryland and Diamondman in Bear, Delaware.
I'm not willing to travel so far. Preferably less than 150 miles from Philadelphia; 200 miles max.
Has anyone raced in these events before? Did you like them, dislike them? What about any other races around the area you liked?
A few things about me that might help with what race to choose:
Strong swimmer, with or without wetsuit. Not concerned about any swim portion of a race.
The bike is where I struggle. In the Philly Triathlon I only averaged about 18.5MPH for the Olympic race. I will be focusing a lot more on that this offseason but just throwing it out there.
My run has been getting better and I handle hills very well. A hilly run course might be favorable.
For whatever reason, and I don't know why myself, I really do like to have race pictures from each triathlon. If a race did have free pictures to view online it would be a big plus for me.
If anyone could please suggest some races and help me out in choosing my first HIM it would be much appreciated. I really want to get into a good race and not sure where to go.

2013-09-08 5:30 PM

in reply to:
Fred D

2013-09-08 6:23 PM

2013-09-08 6:35 PM

2013-09-08 6:44 PM

2013-09-09 6:12 AM

Sous

2013-09-09 10:04 AM

2013-09-09 11:20 AM

in reply to:
Sous

Sous

2013-09-09 11:57 AM

2013-09-09 1:17 PM

in reply to:
Sous

2013-09-09 8:28 PM

in reply to:
djmtrier