2013-09-10 1:31 PM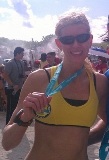 Master


2167






Livonia, MI

Subject:
Trail running shoe advice
I've discovered a new passion for trail running. It feels so much easier on my body and several minor injury areas in my legs and hips. I'm not doing anything super technical, but my Brooks Adrenaline's don't seem to provide enough motion control/stability especially in rocky or rooty areas.
I'd love to hear some recommendations for trail shoes.
I have an extremely narrow foot. The AA Adrenaline's are barely narrow enough for me. So if you're a narrow shoe wearer like me, even better.
Edited by noelle1230 2013-09-10 1:42 PM

RRH_88

2013-09-10 1:48 PM

in reply to:
0

2013-09-10 2:49 PM

in reply to:
MLPFS

Mc Q

2013-09-10 9:11 PM

2013-09-11 11:02 AM

in reply to:
brigby1