2013-11-12 10:23 AM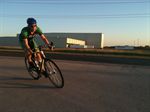 Member


285







Subject:
Fast Marathon on tri training?
I'd like to run an open marathon in the spring, but my legs hate marathon mileage. I ran XC in college and got seriously hurt and since then they really just dont like the pounding. I'm trying to decided if I can realistically run a decent marathon off of 3 days a week of running with obviously plenty of swimming and biking in there as well.

Anyone have any experience with this? I'd like to keep mileage down to ~30mpw and do most of my intertval work on the bike. I've run a 1:22 HM, so I'm a decent runner, i'm just trying to do a marathon sans injury.

2013-11-12 10:46 AM

2013-11-12 11:03 AM

in reply to:
thebigb

2013-11-12 12:15 PM

2013-11-12 1:49 PM

in reply to:
thebigb

Dnn

2013-11-13 10:58 AM