2017-12-04 9:03 AM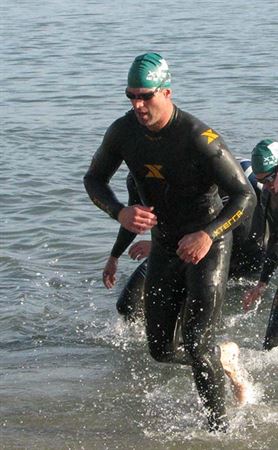 Official BT Coach

18500








Indianapolis, Indiana

Gold member

Subject:
Gray Guys/Girls Maturing Triathlete - Always OPEN
GROUP FOCUS: Did you notice the changes as you got into your 30's? Your body started slowing down and you began losing strength. It only got worse as you got to your 40's. In your 50's you just hit a wall and everything got harder. You're as competitive as you ever were; yet times get slower, your arms and legs often feel heavier, weight invariable begins to creep up, and recovery times are much longer. Most of the training plans reflect the training and recovery levels you could sustain in your 20's, 30's and into your 40's. It just isn't the same when you hit the magic 50 and beyond.
The focus of this group is to help the maturing athlete get to the starting line healthy and cross the finish line feeling like a champion – regardless of your experience level or the distance of your race.
NAME: Scott K (k9car363 – BT Screen name)
STORY: I swam competitively from age 11 through high school and college. I was also as a member of a club swim team. Some ,might say I was an elite swimmer during the 70's and early 80's.
My triathlon journey really began in 1982 with Julie Moss on her hands and knees crawling to the finish line. That was, to this day, the most heroic athletic achievement I have ever seen and I knew if I truly wanted to call myself an athlete, I had to do an Ironman. Back then, there were no coaches, no nutrition plans, and no specific triathlon gear. We literally learned by trial-and-error. There was no "book" telling us the best way to prepare; indeed, we were "writing" the book. I've lost count of how many races I've done over the years. I personally prefer long course - 70.3 and 140.6 although there is something to be said for the speed of the shorter events.
When I hit my 50's, reality changed and I had to adjust my training methods. This forum is simply an extension of what I've learned over the years - athletic success comes from health, consistency, and balance.
FAMILY STATUS: Very happily married 31 years with one daughter and two sons, all grown. We have 7 Grand-kids and had we known they were so much fun we would have had them first!
CURRENT TRAINING: Currently training 8-10 hours per week. That will ramp up to ~ 20 hours per week as we get deeper into the season.
2018 Goal: Qualify for Kona. I age-up this year so have a "better then normal" chance.
2018 PLANNED RACES: Oct '18 – KY, IM Louisville (schedule not complete yet).
WEIGHTLOSS: Back in college, weight was never an issue. Now, it's a constant battle. My goal is to be below my college weight by June.
WHAT WILL MAKE ME A GOOD MENTOR: I like to understand the "how and why" of things and my quest for knowledge is unending. I am constantly reading and furthering my understanding of the body's physiological response to training stimulus and how we can become stronger and faster. As the years continue to go by, I have begun to take a much closer look at training response in the older athlete.
I trained for over a decade under a man who is arguably the greatest swimming coach that has ever walked a pool deck. I learned from the best how to motivate and inspire. I competed at the highest level and beyond the physical side of training and competition, I understand the mental side and how important it is to success.
I love helping others and passing along my experience and knowledge. Nothing makes me happier than helping fellow Triathletes experience an "Ah-Ha" moment.
Finally I'm honored to have co-mentored and the mentored the Gray Guys/Girls group for the past 4 years. Looking forward to another year.
Edited by k9car363 2018-02-07 10:13 AM

2018-01-04 8:59 PM

2018-01-04 10:44 PM

2018-01-05 12:33 AM

2018-01-05 9:02 AM

2018-01-05 11:59 AM

2018-01-05 8:02 PM

2018-01-05 8:06 PM

2018-01-05 8:49 PM

2018-01-05 8:59 PM

2018-01-06 5:27 AM

2018-01-06 11:09 AM

2018-01-06 8:39 PM

2018-01-07 3:38 AM

2018-01-07 3:45 AM

2018-01-07 10:09 AM

2018-01-07 5:00 PM

2018-01-07 7:08 PM

2018-01-07 7:14 PM

2018-01-07 7:24 PM

2018-01-07 8:08 PM