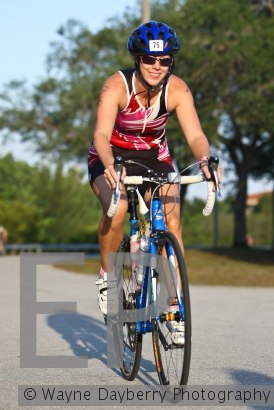 Member


1083






Subject:
Virtual Races
Happy Monday!

During the shutdowns I have been doing the Ironman VR races but they are free. I personally haven't paid to participate in any virtual races ... yet, I guess. I almost registered for the Wine 5k which came with a medal and a fun shirt but then I didn't.

I'm curious what if any virtual races you might be paying for and what makes it worth paying for? Just for discussion no judgement coming from me.

Master


8097








Eugene, Oregon

Subject:
RE: Virtual Races
Zero races, $0. Just not interested. I would have to pay not only entries (for some events) but (at least for the IM series) for technology and platforms that I don't have and don't otherwise want/need. My Internet also isn't reliable so it's unlikely I'd finish a bike event of over 45-50 minutes without at least one crash (of the computer kind). And I don't have a really safe, flat, uncrowded place with no street crossings with no traffic to do run "events". The concept sounds fun, but the technical issues are just too much of a pain, and I can see A LOT of potential for cheating. Especially on the bike. I'm only about 115 pounds, so my absolute power is going to be lower than a lot of people, but in real life (at least on a hilly course) that balances out in other ways. I pass or I don't pass. But people can lie about their weight (for example, say they are 115 when really 150 and put out much bigger watts), and totally screw up the bike results. Not that most people would cheat but I'm sure some goes on, especially with the Worlds qualifiers. There are certainly plenty of people who cheat (draft) in real-life events. I doubt they would change their habits in virtual reality.
Edited by Hot Runner 2020-06-01 9:44 AM

1216





McAlester, Oklahoma

Subject:
RE: Virtual Races
Originally posted by miamiamy Happy Monday! During the shutdowns I have been doing the Ironman VR races but they are free. I personally haven't paid to participate in any virtual races ... yet, I guess. I almost registered for the Wine 5k which came with a medal and a fun shirt but then I didn't. I'm curious what if any virtual races you might be paying for and what makes it worth paying for? Just for discussion no judgement coming from me.
1) My first virtual race of the year was my homemade Standard Distance Duathlon on March 28th. That was the date the Regional Duathlon was schedule and I was set to make my Duathlon debut but the race was canceled. So I set up my own course near my home and did a Time Trial. My goal was to see how even I could keep the two-run segments and see how they felt when racing.
2) There was a Sprint Duathlon offered by VirtualSportsRacing.com that a few of the people in one of my triathlon circles were doing that I tried to sign up for. It had a $10 fee. It broke the results down into age group winners and claimed to have some advanced analytics of your race results. I registered and got a link to complete my profile but after I completed my profile the race I registered was not listed so I contacted the company and there was a glitch and the transaction hadn't gone through. It was an impulse registration that I signed up for just because I had never been able to race any of the people in that circle and I wanted to see if I could beat some of the guys with impressive race results from last year. I ended up not redoing the registration because that same day the USAT Virtual Sprint and Standard Distance Duathlons had their registration open up and they were free. I decided to do the free race first to see how the virtual races worked before paying for a race.
3) I also did a virtual 5K and virtual 1-mile run with my daughters last week. It was supposed to be a club race for the youth running group my wife and I started this year, but it was canceled. I got two of my daughters to do the virtual race on our own secret 5K course. No advanced registration was required. You just did the race during the two-week grace period then filled out the registration form with your race time listed on it and mailed in the results. We will be mailed our tee-shirts and medals. That race had a race entry but we didn't pay it since we are part of a community running program sponsored by the Choctaw Nations that pays the race entries for the members of the program.
F10 - 5K - 31:56
F6 - 1-mi - 13:12
when you are 6-10 years old, racing is all about eating a banana at the finish.
3) I also did two on-line bike races on Rouvy during my 14-day free trial. They were more fun than the virtual races where you run on you own course by yourself.
4) I am doing a Vitual 4-man team marathon relay this Saturday. My brother wanted to do the race and roped me into it. It was another free race.
5) I got an invite with a 30% discount code to a Virtual Triathlon. I had met the race director at a race I did last Septemeber and was thinking it might be a good race to do since it is in July and I have time to plan for it. My biggest beef with the Virtual Races is the ones that post a race on Monday and you have until Friday to register and then you have Saturday and Sunday to complete it. A race should be something you build up to and that you peak for not just something you drop everything to do then pay for it by having to take 2-3 days of recovery because you weren't ready and hurt yourself. When I went to the registration I saw it was $100. What? I can do my own races on my own course supported my myself and timed by myself for free. Why would I pay $100 for a virtual event when I have to do all the planning, support, and timing myself?
So for me...I think that the free options are the best for virtual races. I didn't like the result format of the USAT duathlon races because the results were not searchable, they were not sorted by age groups, gender, etc. VirtualSportsRacing.com had age group results and additional analytic of your race so I feel that $10 for that race is reasonable. I personally don't need any race teeshirts or medals so I would not pay a premium for those items. I do like to see how I stack up against other athletes though so for a well thought out virtual race like the IM races that require everyone to use the same Rouvy course or races that do the elevation, heat adjustments, etc on the run to level the playing field and have a large number of participants to compete against I would pay $3-$5 to get some race validation.
Note: My Brother is an Ultra Runner. He has done two Virtual Ultras in the past month, one was an unsupported 100K and one was an unsupported 50 miles. That takes virtual racing to a whole other level.
Edited by BlueBoy26 2020-06-02 10:06 AM

701





Subject:
RE: Virtual Races
I signed up for a virtual 5k way back in 2019....in another lifetime and reality....that was a virtual race from the start. Did it with my 11 year old son.
Did the Bob Ross Happy Little Trees 5k.
He loves Bob Ross. We love vacationing in Michigan. He dressed up as Bob Ross for Halloween this year.
This was a Michigan DNR race to raise forestry funding for Michigan state parks....totally Bob Ross themed.

The entry was reasonable...and you were only paying for swag we wanted. A cool Bob Ross t-shirt....and a Bob Ross themed medal. Even with the reasonable entry price...I'm guessing a lot more 'profit' went towards the intended cause as it was virtual to begin with.

To my delight, it came with bibs.

We intended to go to a nearby MO state park in support of MI state parks. But...it was the week many were closed.

So, we donned our shirts (which I never do for a 'real' race....count me as superstitious) and put bibs on belts and ran out around town.
Son had a ball. Especially when someone drove by and yelled out that we were in the lead and they hadn't seen any other racers for miles.

5 out of 5....would do again.
With my son...or someone who wanted to have fun with it. And only if the "cause" was something I wanted to contribute to.

Hard to say what I'd feel about a commercial race that switched to virtual. Sure....not mad about the cancelling or the spending. Just not sure I'd be amped to go do it virtual. I get they're just trying to keep the excitement level up. I'm good with that idea. I'd probably just bag it, though.