2004-09-09 11:40 PM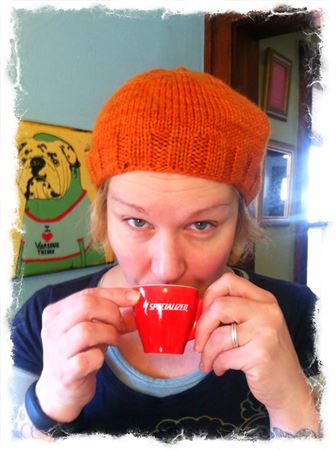 molto veloce mama


9311








Subject:
molto veloce, mama!
well, i brought home a new baby tonight. not as cute as my actual babies, who are sound asleep at the moment...but pretty darn nice, if you like celeste. went out to the same shop we were at last night, test rode the same three bikes, this time in reverse order, and brought home my favorite - a 2002 bianchi veloce. she's downstairs and i'm wishing i wasn't so tired so that i could take her for a spin right now. i told my husband i didn't even want to leave her in the garage...that i thought she could stay in my bedroom closet, or maybe next to my side of the bed.

this is my first road bike that is my own. since it was a 2002, it was roughly 30% off. practically everything made in italy, including the frame. campy veloce. even got celeste cages to match the frame. my husband will be teasing me forever about that. will also take well to aero bars for doing centuries and tris. first major ride will be on sunday, when we do the 30 mile st. paul bike classic. will have to coach ella to switch from her traditional 'go, mama, go!' to 'molto veloce, mama!' mine doesn't look like a bumble bee, but otherwise its the same bike:
http://gianni.bianchiusa.com/2002/site/bikes/road/02_veloce.html
and most important - she's mine!
ps. yes, i will be removing the reflectors. i'll probably move them to my main commuter/burley puller.
(IMG_1567.jpg)
(IMG_1569.jpg)
(IMG_1571.jpg)
Attachments
----------------
IMG_1567.jpg (58KB - 28 downloads)
IMG_1569.jpg (49KB - 29 downloads)
IMG_1571.jpg (53KB - 32 downloads)


2004-09-09 11:48 PM

Tori

2004-09-10 12:54 AM

2004-09-10 8:54 AM

in reply to:
#59844

2004-09-10 8:54 AM

in reply to:
#59829

2004-09-10 9:15 AM

in reply to:
#59901

RobF

2004-09-10 9:16 AM

2004-09-10 2:46 PM

in reply to:
#60003

isis

2004-09-10 9:51 PM

2004-09-12 7:14 AM

in reply to:
#60234

2004-09-12 6:31 PM

2004-09-12 7:24 PM