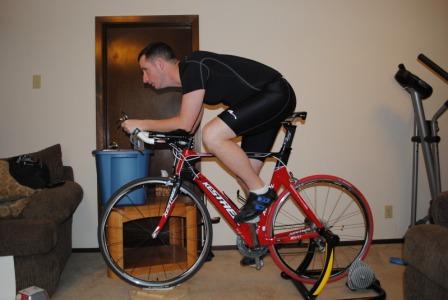 Veteran


820






Omaha, NE

Subject:
First 20 mph ride, errrrrrr maybe?
So today I was lucky enough to finally have my first 20 mph ride. Finally it happened, then I come home and log it in my training log and it calculates it to 19.98mph. Argh, almost there. I'm gonna round up, maybe, what do you guys think, my bike comp said 20 lol.
I guess I'll give some history to maybe inspire others, I started out last Jul on what I guess I would call a 13 yr break from tri's and a 11 yr break from cycling. Got out on the rode, first ride of 13 miles, thought I was gonna die, average like 14.5. Worked my way up to 18 mph then got my tri bike, instantly I was up to 19.7.
Now I guess I better through in a disclaimer too for all those wondering about the road bike to tri bike switch, I was riding a 1987 Giant steel roadie and I'd say while it's still a nice bike, about any bike was gonna be faster lol, but I'd say most of that 1.7 was from the switch, and some from less rolling resistance of not having a 24 year old drive train.
Anyway back on topic, never did get the 20 mph ride last year, 19.8 was my best if I recall correctly and I lost that one in the last mile into a head wind.
The one nice thing I can say about today is it was windy, not bad but 14 gusting to 24 per weather.com, so I took advantage when I could and hunkered down and tried to maintain into it.
Hoepfully I can go 20+ in my race in 10 days.

2011-05-18 9:58 PM

2011-05-19 8:06 AM

in reply to:
#3507463

2011-05-19 8:11 AM

2011-05-19 8:26 AM

in reply to:
#3507690

2011-05-19 8:27 AM

2011-05-19 8:40 AM

2011-05-19 8:49 AM

2011-05-19 8:56 AM

2011-05-19 9:06 AM

2011-05-19 9:15 AM

2011-05-19 9:26 AM

in reply to:
#3507837

2011-05-19 9:27 AM

in reply to:
#3507809

2011-05-19 10:59 AM

in reply to:
#3508121