2013-12-18 3:52 PM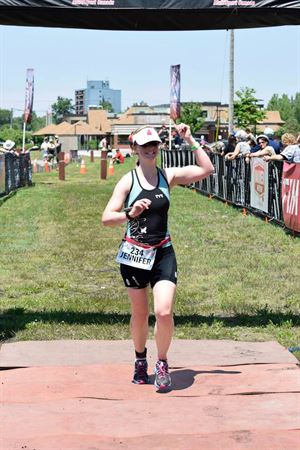 Master


3939










Toronto

Bronze member

Subject:
Daffodil and JuniperJen's New Parents Tri'ing Group - OPEN
GROUP FOCUS: Getting back into or starting triathlon training for new parents (or those with a life change that has caused a shift in focus - we are open to all!). Both Laura and I are new moms and both were a little tri crazy before baby and hoping to keep it up! We can offer encouragement, tri and training talk as well as some fun!
NAME: Juniperjen/ Jen
STORY: Well, i could go on and on and sometimes I do. The short story is that I started running after I got my first job out of university – I was never very athletic but I joined the local running store's 10k clinic and fell in love with running. Before long I was running marathons. I had no idea about triathlon but I met my husband and he did Ironman Canada in 2007 – i thought it was AMAZING! Problems: 1. I didn't own a bike and 2. I didn't swim. at.all.
I took a lot of swimming lessons and got a bike but my journey to tri was not all that easy. Apparently learning to swim as an adult is pretty tough. I am pretty hard headed so I just kept going and despite some very panicky races I managed to get through all but one – i did DNF one swim. In 2009, i did several short distance tris, in 2010 I did my first half iron and in 2012 I took the plunge and completed Ironman Mont Tremblant. But life has now changed. It was only mere weeks after Ironman we set out to start our iron family. Baby Felicity joined us in June 2013 so, here I am looking at keeping my addiction, er, active lifestyle with a new focus.
FAMILY STATUS: Married, new baby born in June, dog and cat.
CURRENT TRAINING: . At the moment, I am opting for consistency and smart volume building over anything in particular. I am a training plan kind of person even though i am not following one at the moment (I will be starting asap in the new year) – i believe in training principles that form out a plan (periodization, strength building, training zones, etc). I like data and some technical talk but I am not much of a wrench when it comes to bikes
THIS YEAR'S RACES: Very little for 2013. My baby arrived in June and I was able to get back to some training and completed 50k gran fondo style bike ride, a 5k charity run and 10k race.
2014 RACES: I have already registered for a mid-winter half marathon (brrrr!) and am hoping to get my triathlon training to a point where i could do a half iron in June before or right around the time I head back to work. I haven't fully committed though.
WEIGHTLOSS: I don't have specific goals here
WHAT WILL MAKE ME A GOOD MENTOR: Along with Laura, I bring enthusiasm (I love tri!), a decent level of experience in the sport but also a sense of camaraderie – there is so much to be learned from one another

2013-12-18 8:28 PM

2013-12-27 2:01 PM

2013-12-27 2:35 PM

in reply to:
#4915239

2013-12-27 7:48 PM

2013-12-28 9:53 AM

2013-12-29 9:26 AM

2013-12-29 9:46 AM

2013-12-29 9:49 AM

2013-12-29 3:48 PM

2013-12-30 8:20 AM

2013-12-30 10:24 AM

2013-12-30 10:56 AM

2013-12-30 7:08 PM

2013-12-30 7:13 PM

2013-12-30 9:14 PM

2013-12-30 9:17 PM

2013-12-30 9:21 PM

2013-12-31 10:29 AM

2013-12-31 11:29 AM

2013-12-31 11:33 AM

2014-01-01 8:47 AM

2014-01-01 8:55 AM

2014-01-01 11:20 AM

in reply to:
0