2021-01-02 2:37 PM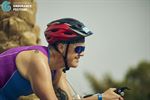 Member


2640






Carbondale, Illinois

Subject:
Beer Drinkers Appreciation Society (BDAS) --Always Open
The Beer Drinkers Appreciation Society (BDAS) is a long running mentor group on BT. We are a loose group of variably experienced triathletes, with a wide range of experiences. BDAS members all mentor and help each other, all while sharing our own experiences and encouraging each other in tri and life.

NAME: Gretchen (drfoodlove)

LOCATION: extreme southern Illinois

EXPERIENCE: Started training for triathlon in 2012, after seeing the Olympics, but didn't do my first race until 2014. Since then, I've worked through a distance progression of sprints (2014), Oly (2015), HIM (2016-2019), and then was supposed to go full in 2020, but then the world closed.

FAMILY: Wife and a 12 year old pit mix

TRAINING: 2021 is dedicated to the 140.6 at Michigan Titanium, so I'm full on training. Weakness is the run.

RACING: The only thing I am signed up for in 2021 is MiTi 140.6. I'm not investing any cash into race registrations until I'm confident races will actually happen. MiTi is a deferral from 2020, so didn't cost me anything (more)

MY MENTOR/MENTEE EXPERIENCE: I've been in BDAS for a number of years--not sure how many. I'm pretty consistent in my training and in my posting. I have some knowledge and am happy to share with everyone anything I know.

FAVORITE BEER (BONUS SECTION): I'm a big fan of porters and stouts. My recent discovery is Great Lakes Brewing Ohio Street Porter, which is unfortunately, a seasonal beer only available at Christmas time.

2021-01-07 8:44 AM

in reply to:
#5274075

2021-01-07 10:33 AM

2021-01-07 10:34 AM

2021-01-07 2:46 PM

in reply to:
#5274228

2021-01-08 1:41 AM

2021-01-08 6:11 AM

2021-01-08 2:07 PM

in reply to:
#5274241

2021-01-10 9:02 AM

in reply to:
#5274289

2021-01-10 2:54 PM

2021-01-10 3:17 PM

2021-01-11 1:24 AM

2021-01-11 7:12 AM

in reply to:
#5274293

2021-01-11 2:08 PM

2021-01-11 7:52 PM

in reply to:
cmkujawa

2021-01-12 1:41 PM

in reply to:
0

2021-01-12 5:09 PM