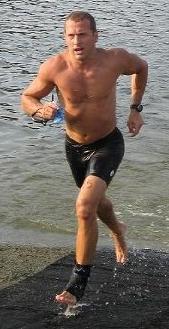 Member


13



Kernersville, NC

Subject:
Am I ready for a half IM??
I was down at White Lake, NC this past weekend and was able to catch the tail end of the Half IM on Saturday before my Sprint on Sunday. When I arrived, people were six hours into the race...everybody was into run. Most of the people I saw were really fighting to finish, in fact many were walking. It was hot as hell, and that distance is a beast, so I am NOT knocking those folks at all. What I am thinking though is that the Half IM's are for real. To finish a Sprint is no big deal. To finish the Half is a big deal. It appeared to be sooo much more challenging than the Sprints I have been doing (obviously). I am now wondering if I am ready for a half IM, or can I be ready by the end of the summer??

My first Sprint was last summer (01:33:54). I have done two Sprints this summer - April 18th (01:30:32) & May 10th (01:25:51). I know that I can swim 1.2 miles in the pool having done it a few times during the Sprint training on long days. I've never attempted 56 miles on a bike - seems like a lot! The most I have done is about 24 miles (at a 19.5mph pace). Running, the longest run in my short running career has been 5 miles (at a 9:00m pace).

Am I ready to jump up to the half or should I keep trying to improve my Sprint times?? Any advice from folks who were once in my position?

sesh

2009-05-12 8:24 AM

RNH

2009-05-13 10:03 AM