2017-08-31 1:40 AM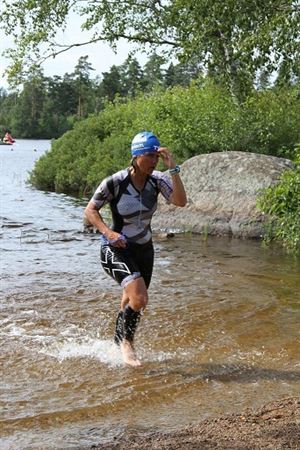 744






, Kronobergs lan

Subject:
Improving run
So I had my best ever race (Sprint) last week, after putting a lot of training in this Summer, it paid off.

Looking at my times compared to others on that day, it looks like my run is the weakest link. Swim and bike are in par with the best ( that day, on that little village race. I know I probably don't compare to the better AG) but I lost 2 places in the run.
I was 2nd out of T1 after being 4th out of the water (love it that I gained 2 places at T1) and kept that position until halfway through the run when I got overtaken by 2 women with a much faster pace.
My run went well, I did not slow down, allowing them to catch me up (if anything, I went faster during the second half) but my pace is just much slower
6 min/km, ie 30 minutes for a 5k. Many girls (even those finishing after me) did it in 25 minutes or less.
So, how do I get from 6 to 5 min per km? More running, yes, but how? longer runs? more intervals? bearing in mind that the run is the sport where injuries are easier to get (for me anyway), I don't want to overdo it either.
Next race is in 9 months time and I really want to have improved my running by then. Any tips BT?
Or (this just occurred to me), do I try to get faster at swimming and biking instead? In other words, should you mainly focus on your strong points or your weak ones?

2017-08-31 2:10 AM

in reply to:
zedzded

2017-08-31 7:31 AM

in reply to:
briderdt

2017-09-26 7:42 AM

2017-09-27 12:44 AM

in reply to:
StaceyK