2018-10-27 8:44 PM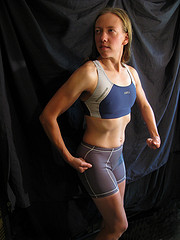 Master


2117




Columbus, Ohio

Coaching member

Subject:
Are FTP tests designed to make me feel inadequate?
I am not the most powerful cyclist, but I have completed an Ironman, finished a triathlon most every year for the past 20 years, and am generally able to podium in my age group in small local triathlons. I completed a marathon in 4 hours 28 minutes last weekend, which is slow for me.

But when I get on the smart trainer and try to do an FTP test, it seems ridiculously out of reach even to complete the test. I can't do 130 watts for 10 minutes followed by 140 watts for 10 minutes, for example.

Am I doing something wrong?

The Zwift one was 45 minutes long, which seemed an insane amount of time to try to go full out.

I tried the one on my Garmin watch, which was shorter but no less intense. I just did my best, which was WELL below the power range it was asking me to hold, and it still gave me a result of 125W.

According to Garmin, my VO2Max is 46.

Thoughts?

2018-10-28 11:40 AM

in reply to:
marcag

2018-10-28 5:10 PM

2018-10-28 7:15 PM

2018-10-28 8:03 PM

2018-10-29 9:06 AM

2018-10-29 9:26 AM

2018-10-29 9:40 AM

2018-10-29 10:12 AM

2018-10-29 9:23 PM

in reply to:
3mar

2018-10-29 9:31 PM

2018-10-30 9:04 AM

3mar

2018-10-30 6:16 PM

2018-10-30 7:55 PM

in reply to:
3mar