2018-10-15 4:40 PM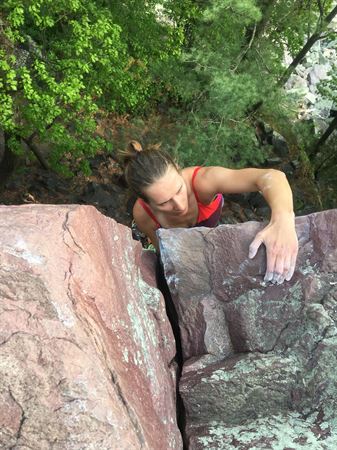 1731







Denver, Colorado

Subject:
Suggestions for the first 70.3
Hey there, long time no see

I hope everyone has had a great season.
I am considering training for my first 70.3 race in 2019. Looking for suggestions based on the following:
- I have completed several sprints and few Olympic triathlons
- completed several half-marathons, a marathon, and 50K
- in the past: able to swim comfortably 2K in the pool, and up to 1.5K open water
- have not swam regularly this year, but did almost a mile in the lake last summer
- longest distance on the bike: 75 miles on roadie, 40 on MTB
- current training: (sorry, my log is not up to date right now)
--- running regularly almost every day, small distances+long run, training for trail HM in November, marathon in April 2019
--- not swimming, but planning to swim in full force after November race
--- MTB biking few times a month, usually around 20-30 miles of MTB
--- some strength training, elliptical, etc, yoga, rock climbing
* I would say running is my biggest strength, since I've been doing it the most
* swimming would be the weakest, thus, devoting winter for swim training (plan is to swim 4-5 times a week)
* I live in Chicago IL suburbs, so it's super flat, weather conditions are pretty unpredictable, but I am not afraid of sever conditions
* I work full time and raise two kids, travel a lot, thus, some time limitations to the training, but able to devote: 6 days for running, 3 days for swimming, 4 days for biking (per week, APPROXIMATELY).
What I am looking for:
- not crazy conditions, given my limited experience (no crazy uphills, crazy waves in the ocean, etc)
- it does not have to be prestigious race, local event would work perfectly
- not crazy expensive
- I am willing to drive up to 20 hours from Chicago, flight depends on location
I know there may not be a perfect race, but I though if there is something close enough, I would know what to focus on (for example: great race with hills - I will work on hills more).
My goal is to complete it and see how I would enjoy 70.3 distance.
Let me know which races could seem like a fit, and which ones are absolutely out of the plan. If you have any additional questions, do not hesitate to ask

Thanks for all your feedback.
Edited by marysia83 2018-10-15 4:42 PM

2018-10-15 9:16 PM

2018-10-16 9:20 AM

in reply to:
jnuger

2018-10-16 7:05 PM

in reply to:
McFuzz

2018-10-17 6:02 PM

2018-10-19 3:37 PM

in reply to:
JoelO

2018-10-20 9:09 AM