2010-06-30 8:35 AM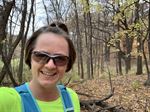 Champion


10004




, Minnesota

Gold member

Subject:
Activities for 7-11 year old girls?
My sister is in town with my nieces (7 and 11) and I am trying to think of a suggestion for something fun to do together that doesn't involve yet another $40 pass to the amusement park. I don't mind spending some money, but I think my sister is sick of it

I feel like every time they come it's constant running around.
I'm looking for ideas on something we can do together that's more low key. I considered getting some small canvases and hauling out my small collection of acrylic paints and brushes and doing a craft project. I also considered renting bikes and taking them on my favorite trails. Any other ideas along those lines?
Thanks!

rayd

2010-06-30 9:03 AM

KenD

2010-06-30 9:18 AM

2010-06-30 9:45 AM

in reply to:
#2952823

2010-06-30 12:14 PM

in reply to:
#2953162