2015-12-23 7:51 PM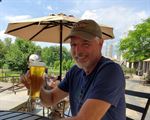 Master


6830









Englewood, Florida

Subject:
Manatee Mentors 2016 - Closed
WELCOME to the Manatees. Some iteration of this group has been going on for over 10 seasons and I've lost track of what season we are in! We are all mentors and mentees, which sounds like manatees--hence our name.
All experience levels and goals welcome. We have not-yet-triathletes, multiple-iron finishers, runners, bikers and swimming specialists. We are beginners, folks at the highest levels of endurance sport, and everyone in between. Our training philosophies, gear, locations, and methods are similarly varied.
We are very committed to health and to each other. We are an extremely supportive and very active group, as Janyne likes to say, inactive Manatees make us sad. Please check in (even to admit you're procrastinating or overwhelmed) and be passionate. Keeping up your training log here on BT and opening it to other group members is mandatory. This helps us all connect through messages such as Inspires and PM's, which some of us do on a regular basis. (If you don't know how, we'll help you). We have members that have been here a while and really know how this site works. We are ready and willing to help guide you through the wealth of resources found on BT. We also use a variety of other tools, such as Strava and other Social Media sites to encourage and support one another. We believe the journey is the reward, and look forward to having you as a fellow traveler and a friend.
AS ALWAYS, ALL FORMER MANATEES ARE WELCOME AT ANY TIME.
TO JOIN, PLEASE REPLY TO THIS MESSAGE (include or later add bio ASAP).
Bio: whatever you want from format below and/or whatever you want us to know.
NAME: What you're actually called.
STORY: Who you are, why you want to do endurance/multisport, any athletic background/none
FAMILY STATUS: Family situation (single/partnered/family/pets)
CURRENT TRAINING: If/how you have been training so far
THIS YEAR'S RACES/EVENTS: If any have been chosen or are on the possibilities list.
GOALS/OBJECTIVES/DESIRES: What do you hope to get out of this?
WHAT MAKES YOU A GOOD MANATEE: Why do you want to join this group?
Edited by cdban66 2016-01-05 7:32 AM

DaveL

2016-01-02 12:00 PM

2016-01-03 11:44 AM

2016-01-03 11:47 AM

in reply to:
rrrunner